Police urge 106 charged in clash at white nationalist rally in state Capitol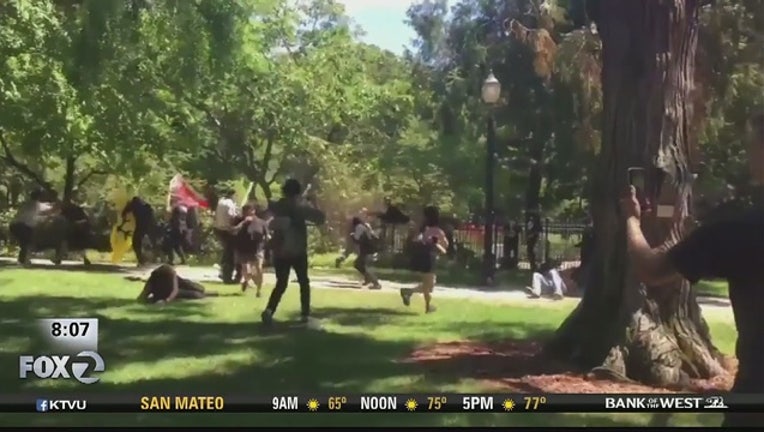 article
SACRAMENTO, Calif. (AP) -- California authorities urged prosecutors to charge 106 people over violence that erupted during a rally by self-described white nationalists outside the state Capitol building last year, officials said Wednesday.

The California Highway Patrol turned over its eight-month investigation to the Sacramento County district attorney's office, which was reviewing the 2,000-page report and hours of video, spokeswoman Shelly Orio said. She could not say how long the review would take.

The fighting broke out in June when about 30 members of the Traditionalist Worker Party were confronted by more than 300 counter-protesters. Fourteen people suffered stab wounds, cuts and bruises. Two of the injured survived critical stab wounds.

The CHP is seeking 68 felony charges and 514 misdemeanors against 106 individuals for activities ranging from unlawful assembly to assault with a deadly weapon.

Sacramento police recovered a loaded 9 mm handgun on the Capitol grounds near the clash.

Videos posted on social media showed officers on horseback dispersing protesters, some with their faces covered, while some threw stones at a man holding a stick as he was shielded by police officers wearing riot gear.

Officials said their investigation was made more difficult because many counter-demonstrators wore masks, forcing them to review surveillance and social media videos to identify the attackers.

"Many of those deliberately disguised their identity and were difficult to locate. Many refused to cooperate with investigators," CHP spokeswoman Fran Clader said.

The Traditionalist Workers Party had a permit for the rally, and more than 100 officers were present because of the expected counter-protest. Several observers who were not involved criticized officers for being too slow to intervene.

The counter-protesters did not have a permit and were there to prevent the rally, the CHP said.

"Our role is to protect free speech, but not when that speech involves violence," CHP Capt. Daniel Lamm, commander of Capitol Protection Section, said in a statement.

The Traditionalist Workers Party formed in 2015 as the political wing of the Traditionalist Youth Network, the Southern Poverty Law Center said.

"We are unapologetically nationalists, fighting to secure the existence of our people and a future for White children," the group says on its website.

Requests for comment sent to the Traditionalist Worker Party and the Traditionalist Youth Network were not immediately returned to The Associated Press on Wednesday.

The Capitol fight came after three people were stabbed during a confrontation a year ago between Ku Klux Klan members and counter-protesters in Anaheim.