'Powerhouse' storm pounds Bay Area, wreaking havoc on roadways
OAKLAND, Calif. - The much-needed rain pounded the Bay Area through the night and well into Tuesday morning, drenching the Earth but also wreaking havoc on the roads.
For example, the carpool lanes shut down before sunrise as the cab of a big rig fell off the Interstate 80 connector on the Oakland-Emeryville border.  
Other accidents were reported throughout the region as well, with trees falling and streets flooding.  
A KTVU cameraman captured a car spinning out on I-680 in Milpitas and hitting a tree off the highway. 
The California Highway temporarily shut down Highway 84 in both directions between Ardenwood and Thornton boulevards in Fremont as water began flooding the roads during the morning commute. 
And in Sunnyvale, officials sent out traffic advisory warnings in the morning, saying both sides along the intersection of Fair Oaks and Tasman were flooded. It cleared up within a couple of hours.
The heaviest rains were hitting Solano County in the north and Santa Cruz County to the south. 
Further south in Monterey County, a flash flood warning was issued, especially in wildfire burn areas. 
In the north, the Sierra mountain ski resorts are ready to open as snow has been blanketing the slopes. 
The National Weather Service forecast called for widespread rainfall Tuesday, with isolated thunderstorms and gusty winds near the coast, referring to the storm as a "powerhouse" system with "tremendous moisture." 
Conditions are expected to dry out late Wednesday into Thursday. 
"When we get ponding on freeways, a lot of times it's because the drainage has been clogged, and we need to send a maintenance team out there to unclog the drain," said Caltrans spokesman Bart Ney.
Before major storms, road crews check and clear culverts, basins and inlets. But Ney said there's often a second thing to blame.
"Or it could be malfunctioning pump, in which case we have to repair or replace the pumping system, those are the main reasons that lead to flooding on freeways," Ney said.
The CHP says the rule of thumb when it comes to flooding: don't risk it.
"It is incumbent on drivers to use some common sense and understand that if you see standing water, you don't know how deep it is and you don't know what's underneath there, don't try to drive through it," said CHP Officer Andrew Barclay.
Drivers might assume it's OK to drive through because they don't see flares, cones, road-closed signs or officers blocking their way. But the water doesn't have to be very deep for it to get sucked into the engine and kill it. 
"Take a second to think. Can you find another way around and find another way to work? Or do you want to risk getting your vehicle stuck, now not only being much later to work, but also now having to be rescued and on top of that having to go through the cost of fixing your vehicle," Barclay said.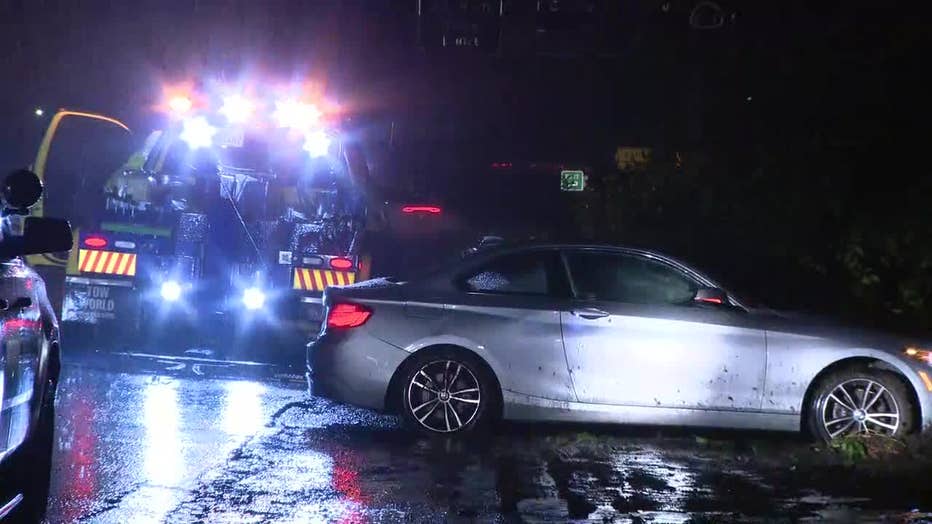 A driver spun out on I-680 in the rain in Milpitas. Nov. 8, 2022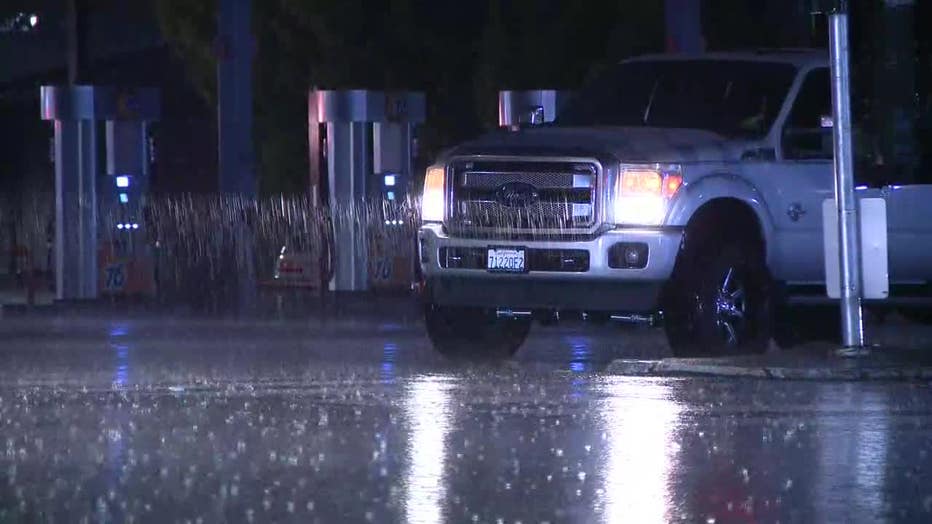 Rain falls hard in the Bay Area during a "powerstorm." Nov. 8, 2022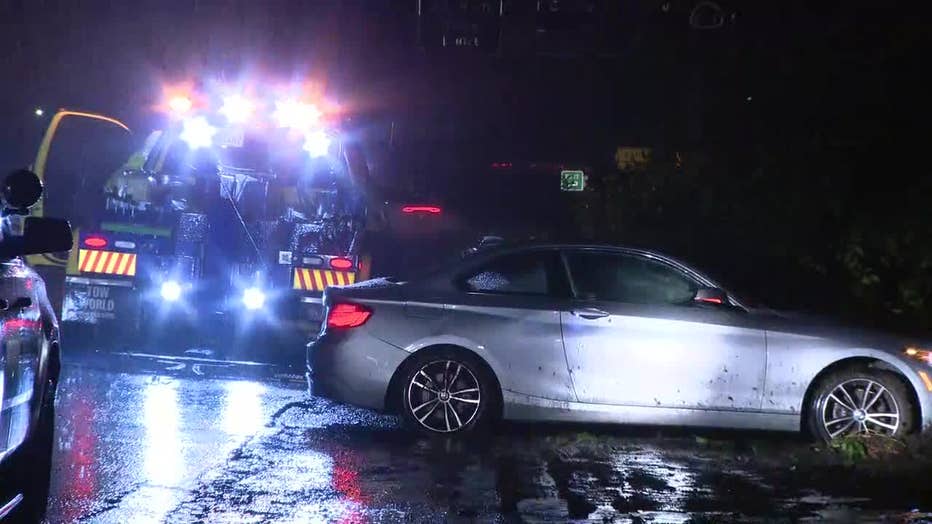 A driver spun out on I-680 in the rain in Milpitas. Nov. 8, 2022