Privacy assistant Jumbo helps you tame your social media exhaust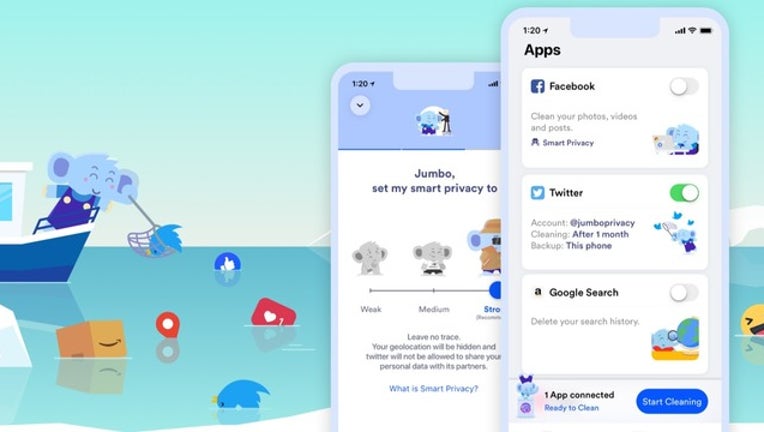 article
SAN JOSE, Calif. (KTVU) - Maintaining one's privacy online while hanging on to your social media profiles is a complicated affair - did you know there are more than 30 privacy-related settings on Facebook?
Jumbo, a privacy assistant app promises to curb your social media exhaust – with a one-stop-shop tool that lets you tame your Facebook, Twitter, Google search, and Alexa data. Privacy support for Instagram and Tinder will be added later. 
Launched on Tuesday, Jumbo is presently available on iOS, an Android version in the works and will be launched in the coming months. 
We took the app for a spin – Jumbo does not require any registration or even an email, it only requires you to log in to each of these services. For Facebook, you can select a smart privacy level – weak, medium, or strong, and Jumbo starts to scrub your online activity and make changes across 30 settings for you. They have a blog post explaining the privacy changes they make on Facebook on your behalf, for settings ranging from face recognition to your Facebook activity.

On Twitter, you can delete your old tweets, based on how old they are – and save them to your phone. Twitter's API limits activity to 3,200 tweets at a time. Jumbo lets you save those tweets on your phone for now. Support for Dropbox and iCloud is coming soon. 

The app has similar features for Alexa and Google searches – Jumbo says it does not access or store any of your passwords, or personal content. "Our client-side architecture makes it impossible for anyone working at Jumbo or any third-parties, to have a look into your personal data," a privacy statement written by CEO Pierre Valade reads.  

Jumbo says that it plans to monetize the app with premium features that will be accessible via subscription in the coming months.