15, including minor, arrested for protest on Cal football field
BERKELEY, Calif. - The Cal football game against USC was delayed due to a protest by UC Berkeley students.
Video posted to social media showed students and others sitting at midfield with arms locked. Security guards tried to get them up but struggled. Protesters were yelling, "Justice for Ivonne."
When the 15 people refused to leave the field after about 10 minutes, they were arrested for trespassing. 14 of them were taken to the Alameda County Jail for booking and the juvenile was taken to the UC Berkely Police Department.
13 of the 15 were UC Berkeley students.
The group was reportedly striking to reinstate a professor Ivonne del Valle who was allegedly suspended for stalking.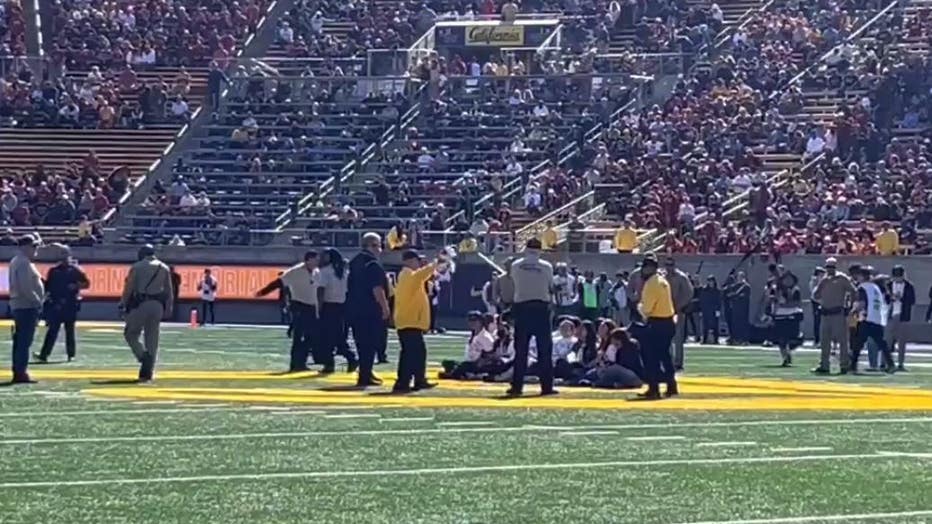 Cal students sit on the field with their arms locked on Saturday, October 28, 2023, delaying the game against USC.
In a statement, a Berkeley campus spokesperson said in part, "We were aware a protest may take place at today's game and our top priority was the safety and well-being of our student-athletes, coaches and fans. We are grateful for the work our security personnel did today to ensure we had a peaceful resolution."