Proud big sister shares skin-to-skin moment with newborn brother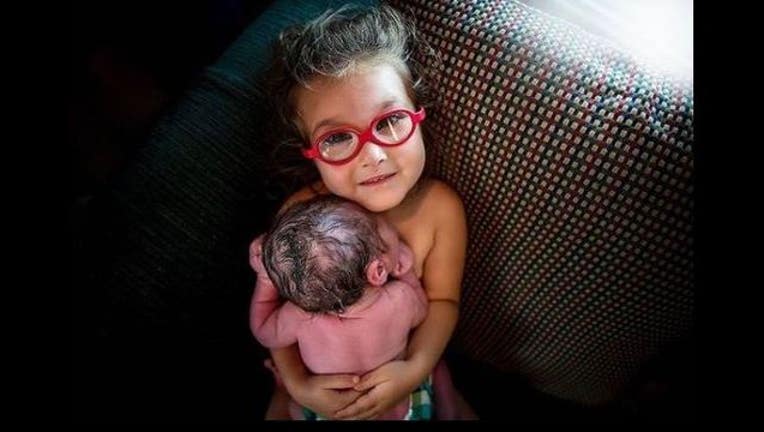 article
LONG ISLAND, New York (KTVU) - A photo of a proud big sister holding her newborn brother with skin-to-skin contact is gaining attention and helping normalize the birthing process. 
Hunter's mom Rebecca tells KTVU as soon as she found out she was pregnant with her second child, she wanted her daughter to feel included every step of the way. Rebecca wanted Hunter to be at the birth to experience the joy as they welcomed their new addition into the world.
"We never forced any of it on her, we just prepared her by showing her videos of home births, talking about birth and educating her on birth and proper terminology. When she was present for the birth nothing was a surprise to her. She was able to experience the joy of bringing her brother into this world, and the bond it created is amazing," said Rebecca.  
Photographer Nicole Lahey with Ready Set Chaos Birth Services watched Hunter, who was almost 4 years old, holding her baby's brother's head as his mother worked on pushing. Hunter cheered her mom on and gently stroked her hair, according to Lahey. 
According to the National Institute of Health skin-to-skin contact significantly improves maternal and newborn outcomes and helps promote nursing. Oftentimes dads also enjoy the skin-to-skin bonding time with their babies. Lahey suggested Hunter get some extra bonding time in with skin-to-skin contact too.
Lahey posted the following on her Instagram page:
"Often clients ask me my thoughts on having children present at a birth. My answer is usually yes. Hunter's parents prepared her so well for this experience. They discussed anatomy in proper terms. She knew the word 'placenta' and she wasn't afraid of the blood she saw.
She didn't cower when her mother roared her brother out and she didn't get nervous or concerned about it at all. She asked questions, she played with her babies, she ate snacks, and she kept us all entertained with her adorableness.
She held her brother's head as he crowned, she cheered her mom on as she pushed him out, she rubbed her mother's hair so gently as they both gazed lovingly at this new tiny life in front of them. I said 'Hunter, do you want to take your shirt off and hold your brother?' Without hesitation she began to take her shirt off but she did ask me why she was taking her shirt off. I replied 'brand new babies love the feeling of your skin and you will love it too.' She was in heaven and didn't want to give him back to his mom. She held him with the biggest smile as he bobbed his head around looking for a breast. She giggled as we told her he wanted to nurse. Birth is the most normal part of life; share it with your children and teach them from the beginning that birth is nothing to fear. Birth is strength."
Hunter's mother Rebecca told KTVU she's flattered the story has reached so many people. 
Editor's note: Rebecca did not want her last name shared.