Public asked for help naming 3 chicks that hatched atop Pacific Gas and Electrical Headquarters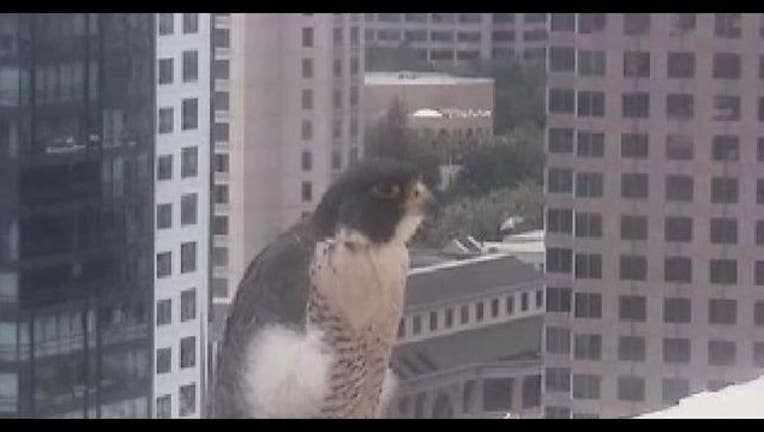 article
SAN FRANCISCO (KTVU/BCN) - Three peregrine falcon chicks that hatched atop Pacific Gas and Electric headquarters in San Francisco this month need names, and the utility company is asking the public for help.
The chicks came out of their respective shells in the avian equivalent of a penthouse suite atop PG&E headquarters at 77 Beale St. this month. They got a well baby checkup and a banding Friday, the utility said.
The banding means that once they leave the nest, bird watchers will be able to see the birds' banding numbers and share their location. 
Glenn Stewart, director of UC Santa Cruz Predatory Bird Research Group, did the checkup and the banding.
However, the birds - two males and a female - still don't have names, and PG&E is asking the public for help.
Customers can submit names using the Twitter hashtag #PGE4Me and Instagram, or by emailing them to currents@pge.com. The deadline is Thursday.
The names will be chosen from the submissions and announced the following week, the utility said.
Last year, chicks also hatched atop the building. The three chicks were named Steph, Iggy and KD. Bay Area sports fans probably don't need to be told the origin of those names: Stephen Curry, Andre Iguodala and Kevin Durant of the Golden State Warriors.
Falcon fans can watch the birds and their parents via a high-definition webcam courtesy of PG&E.