Raiders running back McFadden set to join Cowboys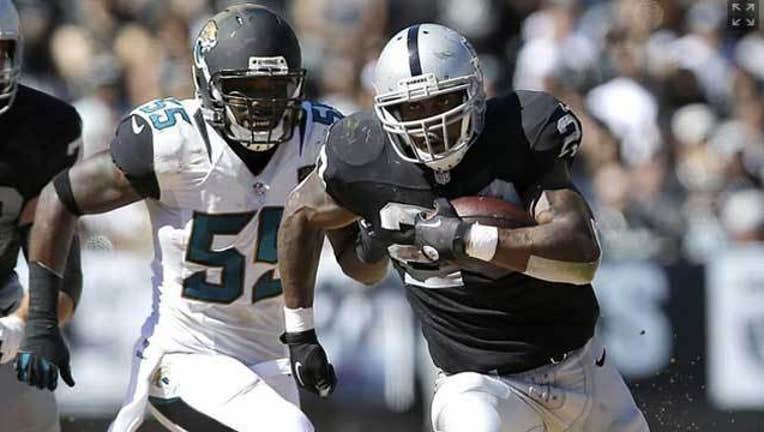 article
IRVING, Texas (AP) — Darren McFadden will get a chance to replace NFL rushing champ DeMarco Murray in Dallas after the former high draft pick never could find a dominant form in Oakland.
The Cowboys and McFadden agreed on a contract Friday, a day after Murray bolted for NFC East rival Philadelphia on a big contract that Dallas owner Jerry Jones said he couldn't match because of the strain it would have put on the salary cap.
McFadden had seven mostly disappointing seasons in Oakland after the Raiders drafted him fourth overall in 2008. His agent, Ian Greengross, tweeted Friday that McFadden was joining the Cowboys. The deal is reportedly for two years and worth up to $5.9 million.
Murray signed a five-year, $42 million contract with the Eagles on Thursday, with $21 million guaranteed. Jones said Murray would have remained in Dallas without salary cap restraints.
It's an Arkansas reunion for McFadden and Jones, who played football for the Razorbacks in the 1960s.
Jones has drafted just one player from his alma mater since buying the Cowboys in 1989. It was McFadden's backfield mate, Felix Jones, who went 18 picks after McFadden in the first round seven years ago. That's the only time Dallas has taken a running back in the first round since getting all-time NFL rushing leader Emmitt Smith at No. 17 in 1990.
The 27-year-old McFadden has 4,247 yards for his career, with highs of 1,157 yards and seven touchdowns in 2010. That was his only 1,000-yard season in an injury-riddled career. He finally had a full 16-game season in 2014, but averaged just 3.4 yards per carry with only two touchdowns.
The Cowboys added McFadden a year after rejuvenating the career of linebacker Rolando McClain, another former high draft pick that had a disappointing career in Oakland.
McClain, dumped by the Raiders three years after going eighth overall in 2010, had a hard time staying on the field for Dallas because of injuries, He still finished second to safety Barry Church with 108 tackles. He skipped the 2013 season and twice walked away from football after Baltimore signed him. The Cowboys got him in a trade.