Rally held demanding release of longtime Brentwood business owner in ICE custody for 2 months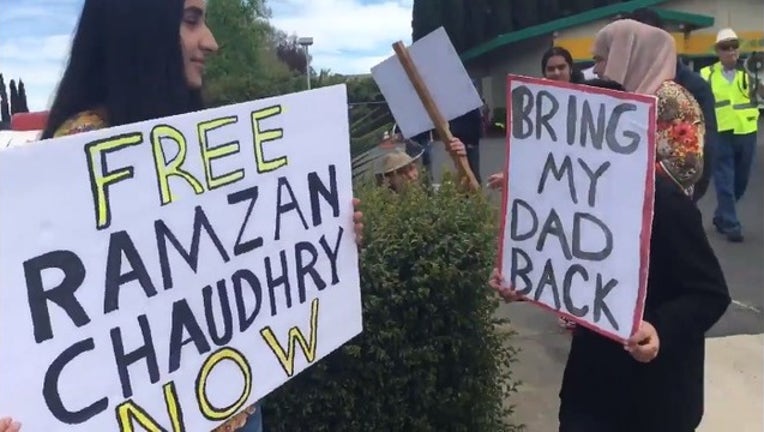 article
BRENTWOOD, Calif. (KTVU) - A longtime Brentwood business owner has been in the custody of Immigration and Customs Enforcement for two months.  Loved ones worry he will be deported to Pakistan and say they are running out of options.
Friends, family and community members held a rally to demand Ramzan Chudhry's release on Saturday at the Brentwood Petroleum, the business he has run with his wife Asia Chudhry more than 20 years. Now Asia is working around the clock to make ends meet. 
"Me and my kids feel like we're left alone, "said Chudhry. 
Her husband was detained by ICE two months ago and could be deported. "He's been here in the United States almost 30 years. And it's hard for me. I need his support in my life. I can't even sleep."
Chudhry said her husband has never committed a crime since coming to the U.S. from Pakistan as a child. The couple has a home in Oakley and three teenage children.
Chudhry thinks their efforts to get him residency is what alerted agents to his illegal status. She said his application was denied, but his work permits are up to date. 
In January, he was summoned to immigration court, but Ramzan Chudhry never came home and his passport was taken away.
"It's so wrong. It's unfair. It's injustice," said Asia Chudhry. 
Her husband is now at Yuba City detention center. Their daughter said their whole world has been turned upside down. 
"We just want our father back," said Kinza Chaudhry. "We miss him so much."
Members of the community joined the rally. They worry time is running out.
"He's well liked, he's a great person. Him and his wife would do anything for anybody," said Kim Moreno, a community member. "They would take their own shirts off their own backs to help anybody out here. It's crazy this has happened."
Hundreds have also signed a petition, demanding Ramzan Chaudhry be granted asylum so he can stay in the country with his family.
We reached out to ICE to learn more about why he's being held, but have not heard back. 
KTVU's Ryan Moran contributed to this report.