Record Store Day is back, Shipyard Open Studios coming to SF Hunters Point and Friday Nights at OMCA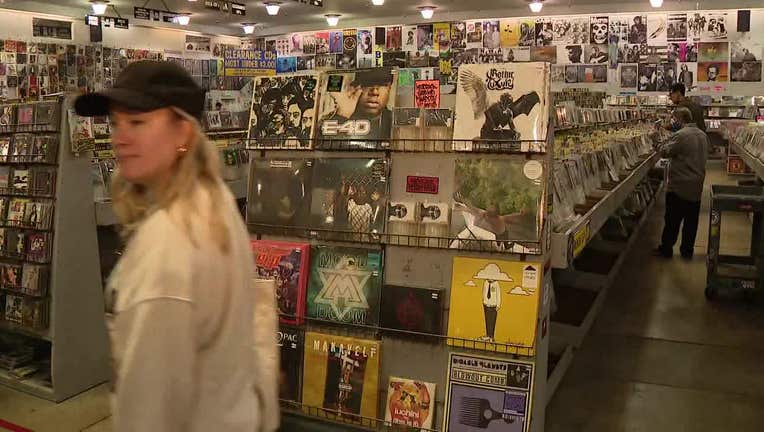 article
OAKLAND, Calif. - What goes around comes around, they say. That's the idea behind the current vinyl resurgence and with that, another Record Store Day upon us. 
Looking further ahead, art lovers will appreciate the Shipyard Open Studios at San Francisco's Hunters Point. 
But if you can't wait, every Friday night, you can check out the vibe at Oakland Museum of California's Friday Nights at OMCA series. 
Feeling stressed? Try a meditative sound bath. 
Read on to see what the hype is all about and see how spring is shaping up with some of our arts, culture, and off the beaten path entertaining event suggestions. 
Record Store Day used to only come once a year, but recent incarnations have been peppered throughout the calendar year. There are several local record stores participating. So get in line early to get things like special deals, exclusive releases, and of course, swag bags. 
Here's some suggested locations: 
For a more complete list on where to get your vinyl fix, check the Record Store Day website to find your participating store. 
Do not forget Mother Earth. Earth Day celebrates its 53rd anniversary this year. On Saturday April 22, you can join the arts & culture to be held at San Francisco Golden Gate Park's County Fair Building. Expect dynamic speakers, including Youth vs The Apocalypse, green non-profits and an opportunity to educate yourself on how to live more sustainably. There will be a main stage for multicultural music performances including a feature performance by Karl Perazzo, percussionist from The Santana Band. Chefs will teach about sustainable food choices and meal planning as part of the vegan chef showcase. 
The County Fair Building is located 119 9th Avenue at Lincoln Way in San Francisco. Events are scheduled from 11 a.m. to 6 p.m. 
More than 120 local artists are included in the Shipyard Open Studios at San Francisco's Hunters Point Shipyard and Islais Creek Studios April 29-30. There are six buildings here where you can explore the grounds, peruse and buy art directly from the artists. Food vendors, including Ujamaa Kitchen, will be on hand. And you can expect entertainment by local musicians such as Calvin Keys Trio. This is a wonderful way to spend the afternoon, wandering the vastness of the grounds and experiencing the vibrant art culture the city has to offer. 
Plug in 451 Galvez Avenue into your GPS or check out this map for directions. The open studios are accessible through public transportation. But organizers say there is also ample parking. Once you are in the city, take Muni 15 or Muni 19 Polk Street - Hunters Point. The line ends just steps from the Building 101 walkway. The open studios are from 11 a.m. to 6 p.m. Islais Creek Studios is located at 1 Rankin Street, San Francisco (that's about a 40-minute hike from the main location).  
The event is free, but organizers have set up an Eventbrite page to register for a free ticket ahead of time. 
If you can't make it in person, check out the preview exhibit online, now through April 30. 
Every Friday night, Oakland Museum of California serves as the perfect gathering spot for community to come together, take in great food from Off The Grid food trucks, listen to music and enjoy late-night access to the museum's galleries and special exhibitions with a museum ticket. 
For the April 28 program, check out DJ Siyah at the Amphitheater stage and then Youth vs. Apocalypse hosts an all-ages, open-mic community showcase. This group is a diverse group of young climate justice activists fighting for a livable climate, equity, sustainability and a just world. 
If you haven't been to Friday Nights at OMCA, we assure you the vibe is right, and it's great people watching, especially when the DJ gets those bodies moving in the amphitheater.  
The program is scheduled to run from 5 p.m. to 9 p.m. with the food trucks available from 5 p.m. to 8 p.m. 
Oakland Museum of California is located at 1000 Oak Street, Oakland, California 
What is sound meditation, you say? Well, Sound Meditation Presents - San Francisco says you could categorize this as healing arts. From their website, they simply explain this is meditation with the aid of sound. "Ancient Tibetan instruments" are used to induce a trancelike state. Sounds like a nice getaway from the daily grind, right? Gridlocked traffic, waiting in long lines, interpersonal conflict and all the other every day stressors are miles away when you're in a sound bath. Perhaps. 
But what about doing it as a group event? The group says they started doing mass sound bath gatherings in the city in 2015. These are said to be high-quality sound experiences. Now if that isn't enough to blow your mind, imagine this taking place inside the Church of 8 Wheels – a roller skating rink in a former church. 
From the organizers: "During this event, participants will come and lay down as we bathe you in the sounds of 38" Paiste gongs, binaural beat crystal bowls, Tibetan bowls, Native American Flute, monolina, ocean drums and rainsticks, chimes and more."
The events at the Church of 8 Wheels occur regularly with the next dates set for April 26 and May 3. Check their site to see availability. The sound baths last from 8 p.m. to 9:30 p.m. 
Go ahead, dive inwards, calm your nervous system and see if this is for you. 
Church of 8 Wheels is located at 554 Fillmore Street in San Francisco.