Red Lobster launches line of frozen seafood products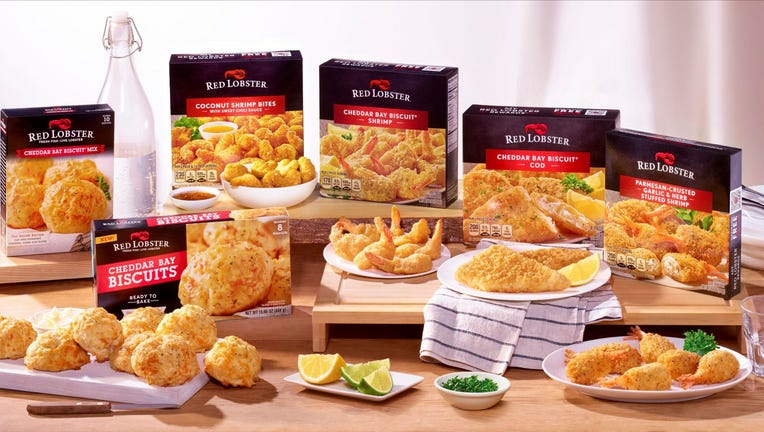 article
ORLANDO, Fla. - Red Lobster is coming to a grocery store frozen aisle near you. 
The Orlando, Florida-based restaurant chain announced the launch of its first-ever line of frozen seafood products at U.S. retailers. 
The new entrees, inspired by Red Lobster's fan-favorite menu items, include Cheddar Bay Biscuit Shrimp, Coconut Shrimp Bites, Cheddar Bay Biscuit Cod, and Parmesan Crusted Garlic & Herb Stuffed Shrimp.
RELATED: New Chick-fil-A cauliflower sandwich sparks debate on TikTok
"Everyone loves our Cheddar Bay Biscuits, and our shrimp is a close second favorite, so it just made sense to finally put the two together," Patty Trevino, Red Lobster's chief marketing officer, said in a statement. 
The investment into a frozen food lineup comes as the global frozen food market is projected to reach $504.41 billion by 2030, according to market research firm AstuteAnalytica.
Red Lobster touted the Cheddar Bay Biscuit Shrimp, which combines the Cheddar Bay Biscuit with sweet, succulent shrimp, as "impossible to eat just one." The bite-sized Coconut Shrimp Bites – tossed in real shredded coconut and paired with the Sweet Chili Sauce – are "slightly sweet, perfectly crunchy and dangerously delicious."
Meanwhile, the wild-caught cod is breaded with the chain's Cheddar Bay Biscuit seasoning, and the Parmesan Crusted Garlic & Herb Stuffed Shrimp features sweet shrimp stuffed with garlic, herbs and cream cheese coated with a parmesan-crusted breading.
Red Lobster called the new frozen seafood lineup "a quick and convenient dinner, the perfect party appetizer or a reliable late-night shrimpy snack."
While this is the first frozen entree product lineup, Red Lobster already has frozen, ready-to-bake Cheddar Bay Biscuits at grocery stores, as well as a brand of mixes like Gluten-Free Cheddar Bay Biscuit Mix, Traditional Mix, and Honey Butter Biscuit Mix. 
RELATED: 'The Truffle Table': Shake Shack offering fine dining to promote new menu
This story was reported from Cincinnati.