Richmond man charged with being accessory to Penngrove murder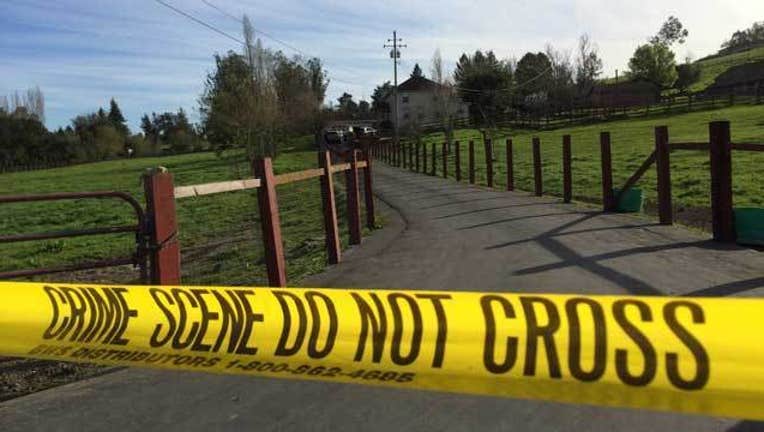 article
SANTA ROSA (KTVU and wires) -- A Richmond man was charged in Sonoma County Superior Court Tuesday afternoon with being an accessory to the murder of an 84-year-old Penngrove woman in her home on Friday.
John Bruno Martinez, 27, delayed entering a plea to two counts of being an accessory after the fact to burglary, robbery, false imprisonment and the murder of Olga Mary Dinelli in her home in the 900 block of Rose Avenue.
He was arrested in Richmond on Saturday and is being held in Sonoma County Jail under no bail. His next court date is Monday.
Chief Deputy District Attorney Brian Staebell this afternoon identified Stephanie Hill, 37, and Victor Silva, 27, both of Novato, as the murder suspects who allegedly fled after the slaying.
Hill was shot and killed Saturday afternoon by a Riverside County sheriff's deputy after a vehicle pursuit into La Paz County, Arizona, when she got out of the car on Interstate Highway 10 and refused to drop a firearm, according to Riverside County sheriff's Deputy Michael Vasquez.
Silva was arrested and eventually will be extradited from Arizona to Sonoma County, Staebell said.
Silva faces charges in Arizona and the Sonoma County murder case would not take precedence over any of the Arizona charges he faces, according to Staebell.
"There is an active warrant for his arrest and we will review the charges against him when we get the reports and he is brought here," Staebell said.
A friend found Dinelli's body in a chair and a large amount of blood in her home and called the sheriff's office around 11:50 a.m. Friday. She lived in the home with her 75-year-old brother Larry for the past several decades, sheriff's Sgt. Cecile Focha said.
Dinelli's 1995 Lexus SC400 was not found at her home. Authorities have not identified the vehicle Hill and Silva were in during the pursuit into Arizona.