Richmond police investigate shootings that leave one dead, four injured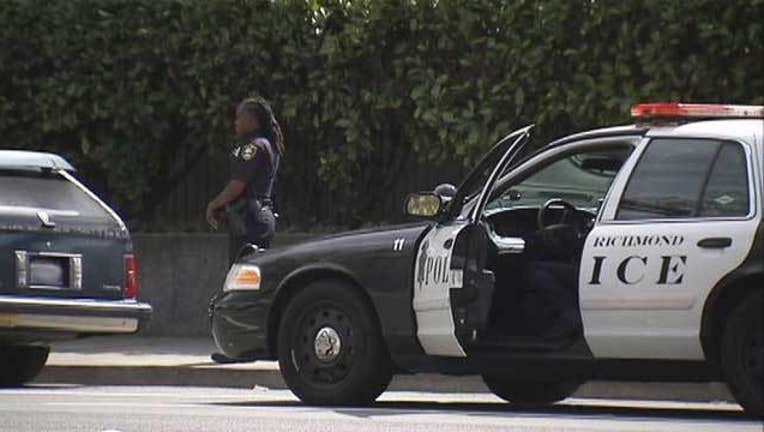 article
RICHMOND, Calif. (KTVU) -- Gun violence claimed the life of a Vallejo man and left four other people injured in two separate shootings Tuesday evening in Richmond, a police spokeswoman said.
Officers were first called to the 600 block of Berk Avenue around 4:45 p.m. after they received reports of a shooting in the parking lot of the Monterey Pines apartment complex, Richmond police Sgt. Nicole Abetkov said.
Abetkov said officers arrived to find a 29-year-old man, identified by the Contra Costa County coroner's office as Fontino Hardy Jr., suffering from gunshot wounds.
The officers began performing life-saving measures before paramedics arrived and transported Hardy to Kaiser Permanente Richmond Medical Center, where he died from his wounds a short time later, Abetkov said.
As officers were responding to the shooting, people were attempting to transport a 17-year-old boy with a gunshot wound to the hospital but saw a police cruiser and flagged the officers down, Abetkov said.
Police believe the teen was shot in the same area as the Berk Avenue shooting, she said.
The teen was transported to John Muir Medical Center in critical condition but Abetkov said as of this morning, he was in stable condition and is expected to survive.
Less than two hours later, at 6:25 p.m., officers responded to another report of shots fired at the Pullman Point Apartments at Carlson Boulevard and Pullman Avenue, Abetkov said.
Officers found evidence of gunshots fired in the area and three men arrived at the Kaiser medical center with gunshot wounds to their lower extremities, according to Abetkov.
She said all three suffered injuries that are not considered life-threatening.
It's unclear whether the two shootings, which occurred less than a mile apart, are related, but Abetkov said that as of this morning, they were being investigated separately.
No suspects have been located in either case and no motives for the shootings have been established, she said.
Tuesday's fatal shooting is the 10th homicide of the year in Richmond, Abetkov said.
Anyone with information about either case is encouraged to contact Richmond police at (510) 233-1214 or to leave an anonymous message at (510) 232-TIPS (8477).