Rob Gronkowski will attempt a field goal in live Super Bowl commercial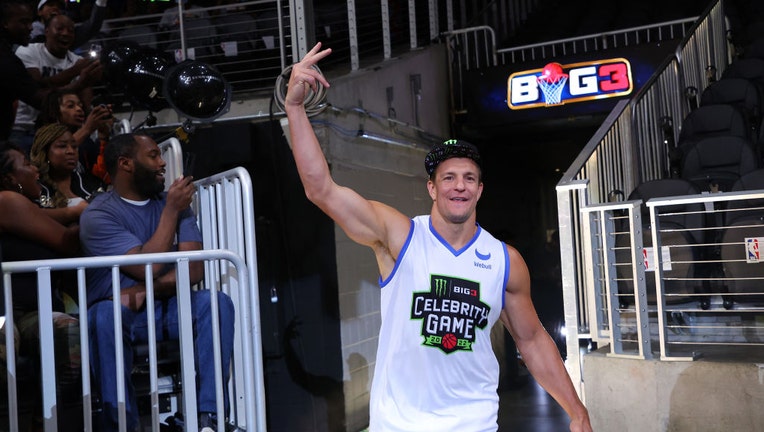 article
Rob Gronkowski will be back on a football field for the Super Bowl.
The four-time All-Pro tight end will attempt to make a field goal in Arizona on Feb. 12 during a live Super Bowl television commercial for FanDuel.
It will be a high-stakes kick for Gronkowski, a four-time Super Bowl champion with New England and Tampa Bay who is used to performing under pressure.
Anyone who places a Super Bowl bet of $5 or more on FanDuel will win a share of $10 million in free bets if Gronkowski makes the field goal.
RELATED: Rob 'Gronk' Gronkowski announces retirement from Buccaneers, NFL on Instagram
"Everyone knows that I love throwing myself into fun, love trying out new ideas," Gronkowski told The Associated Press. "Obviously, I can catch a football. ... Why not try to kick a field goal? And on top of it, I was punt, pass and kick champion in the western New York region when I was growing up, as well. So I love kicking field goals. I used to practice all the time. This is an opportunity to help my fans out there to win $10 million in free bets, which is mind-blowing."
Gronkowski said he made one field goal in his career, a 33-yarder in high school. FanDuel is introducing the ad campaign titled "Kick of Destiny" with a 30-second spot on Monday.
"Our first-ever Super Bowl commercial will be more than just a television spot – it will create a moment that will bring fans together, and give them something to collectively cheer for," said Andrew Sneyd, FanDuel's executive vice president of marketing. "It's an unprecedented field-goal attempt on live TV. ... so anything can happen."
Gronkowski already is practicing his kicking with three-time All-Pro Adam Vinatieri, whose 599 career field goals are most in NFL history.
RELATED: Super Bowl 2022: Bucs star Rob Gronkowski opens up his home to one lucky fan for ultimate watch party
"I'm not at the top of my game right now, but I actually have two training sessions coming up this week," Gronkowski said. "I believe if you put your mind to anything, you can do anything. And I don't want to disappoint America. ... I'm going to have to train, but I feel like I'm going to be able to pull it off. It's like fourth-and-1, game on the line. I like that pressure. I like the ball coming to me. And this is the same situation with the field goal."
Gronkowski had 621 catches for 9,286 yards and 92 touchdowns in the regular season in nine seasons with New England and two with Tampa Bay. He had 98 receptions for 1,389 yards and 15 TDs in the postseason.
The 33-year-old Gronkowski first retired after the 2018 season, but he returned to play with Tom Brady in Tampa Bay in 2020. The close friends led the Buccaneers to a Super Bowl title that season. Gronkowski said he thought about returning a couple times this season but couldn't make the commitment to play again. 
The Buccaneers (8-9) won the NFC South for the second straight year, but Brady and the offense sorely miss Gronkowski.
"Obviously, football is in my heart. I love playing the game. I thought about it a few times, actually," Gronkowski said. "I wasn't really close. In order for me to go back to football, my whole mindset, everything would have to be flipped knowing like that is what I'm going to do."
Gronkowski, who is working as an analyst with Fox, didn't rule out returning next season.
"Anything's possible but right now, not really thinking about that, but just doing some other things, enjoying doing other things and having a good time with everything," he said.