Robert Griffin III leaves Fiesta Bowl broadcast when wife goes into labor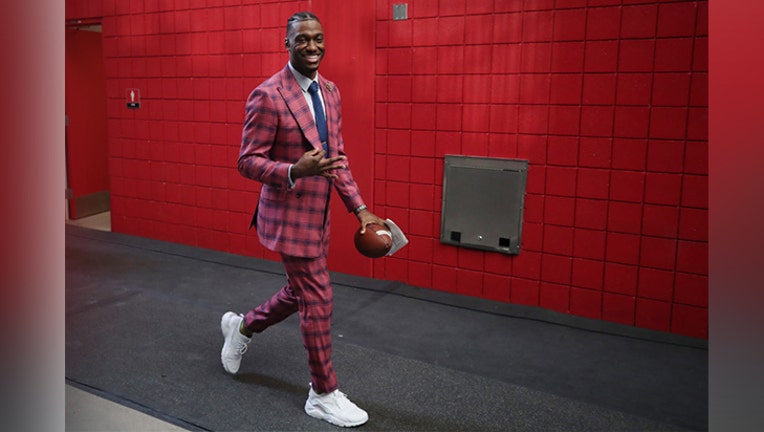 article
GLENDALE, Ariz. - Robert Griffin III was known for his speed during his NFL career, and the former quarterback turned broadcaster showed off his elusiveness during the Fiesta Bowl Saturday night. 
The former Heisman Trophy winner was working for ESPN covering the TCU-Michigan game when he got a phone call that his wife, Grete Griffin, was going into labor.
Griffin took some grief for answering his phone while on live TV, but once his co-hosts realized his wife called with the news, they gave Griffin hugs and told him to get going.
The ex-Washington Commanders first-round pick unhooked himself from his microphone monitor and sprinted up a tunnel in a purple checkered suit leaving the stadium near the end of the third quarter. 
"WIFE IS IN LABOR," he tweeted, with video of his hasty exit.  But it turned out to be a false alarm. 
RGIII later shared an update on his official Twitter page Sunday that he made it home, but the baby wasn't born yet. 
"Because our baby decided it WASN'T TIME TO COME OUT YET. We are at Home and enjoying the other kind of 2023 fireworks. Baby Girl must have known that Mommy and Daddy had never spent a New Year's apart. GOD KNEW where I needed to be."
Grete also hopped on Twitter Sunday and offered gratitude to her husband for making the effort to be by her side. 
"Thank you everyone for the sweet messages, but as of right now, still pregnant and couldn't be more thankful for 
@RGIII for hopping on the first flight home My hero!!!!"
Grete and Robert got married in 2018 and have two children together, Gloria, 5, and Gameya, 3, and they're expecting their third daughter soon. Griffin also has a daughter, Reese Ann, 7, with his ex-wife Rebecca Liddicoat, Insider reported.
The Baylor standout returned to his broadcasting duties Monday to cover the Cotton Bowl Classic between No. 16 Tulane and No. 10 USC. 
The Associated Press contributed to this report. This story was reported from Washington, D.C.