Rosie the Riveters, all in their 90s, want to fly to Normandy for 75th anniversary of D-Day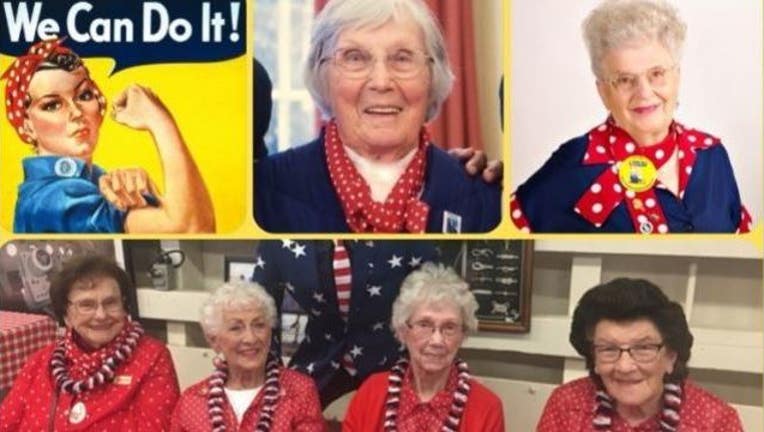 article
RICHMOND, Calif. (KTVU) - They were welders, electricians, "draftsmen" and, of course, riveters during World War II.
They've met President Obama and hugged then-Vice President Joe Biden.
They spearheaded a U.S. Senate resolution in 2017 to honor the work of 16 million women who joined the U.S. Armed Forces between 1940 and 1945, filling jobs previously reserved strictly for men to produce ships, planes, munitions and other war supplies.
And now, a handful of original "Rosie the Riveters" – all but one who now lives in the Bay Area and all of whom are in their 90s  – want to check one more thing off their bucket list. They want to fly to Normandy, France in June to participate in the 75th anniversary of D-Day and the successful defeat of the Nazis. 
"It's critically important that the millions of women of WWII be recognized by the government," said
said Phyllis Gould, 97, a former journeyman welder who lives in Fairfax, Calif. 
Learn more about each of the Bay Area Rosies
She said even her own granddaughter didn't know much about women's roles during the war and her teacher didn't educate the class about the role the Rosies played. 
"There's a long way to go," Gould said, "and a short time to do it." 
Gould is planning the trip with her pals: Marian Sousa, 93,  a former draftsman who now lives inf El Sobrante, Mae Krier, 93, a former riveter who now lives in Levittown, Penn.; Agnes Moore, 99, a former journeyman welder who now lives in Walnut Creek; and Marian Wynn, 92, a former pipe welder who now lives in Fairfield. Kay Morrison, 95, a former journeyman welder of Fairfield, had wanted to go but her health is preventing her from making the long trip, said Tammy Brumley, a Rosie the Riveter volunteer and organizer of the trip. All but one worked at the Kaiser Shipyard in Richmond during the war, where there is now a National Park museum named after their achievements. 
"The Rosies are part of the puzzle of WWII," Brumley said. "They were able to mass produce the military might we were so short of at that time. Obviously, the men were out there on the home front and they gave their blood for us. But the Rosies were part of that. Having them in Normandy, rounds out the whole story."
But all the women live on fixed incomes and can't afford the trip to France. They started a GoFundMe to help with their travel, meals and hotel expenses. The money raised will also pay for three aides to accompany the women to drive them around and push them in wheelchairs if needed, Brumley said. 
Of special significance to Wynn is the fact that her brother, U.S. Army Private First Class Donald F. Parsons, died while serving his country in July 1944 and is buried on a bluff overlooking Omaha Beach at the Normandy-American Cemetery in Colleville-sur-Mer, Normandy, France. 
Gould said Wynn is such a "low key person," but that deep down, she's very touched to be able to visit her brother's grave, the first in her family to do so.
"I think it's wonderful," Gould said. "She really wants to be there."