Bracing for 'Bomb Cyclone': Safe driving tips as California braces for heavy rain
As if driving in Los Angeles wasn't already challenging enough – Now, California is bracing for a "bomb cyclone" that is expected to deliver heavy rain and possible flooding.
With the heavy rain and possible flooding in mind, it's a reminder to consider staying at home Wednesday night and – if possible – avoid the roads through late Thursday afternoon. Los Angeles County is expected to see heavy rain from midnight to Thursday, 6 a.m. The area is expected to deal with very heavy rain from Thursday, 6 a.m. to noon.
But for those who don't have that options, officials across Southern California shared tips on how you can travel safely in soggy conditions.
RELATED:
DRIVING IN THE RAIN?
On Wednesday, officials with the city of Chino Hills shared safety tips on driving in the rain.
Here are some of the tips they shared:
Never cross through water that is covering the road
Check your tires and wipers – make sure they are in good condition
Slow down when driving in adverse weather
Find alternate routes if possible 
Leave a few car lengths between you and the car in front of you
Turn on your lights
Stay in the center lanes – Puddles typically form on the shoulder and the median
Avoid suddenly stepping hard on the gas pedal or suddenly braking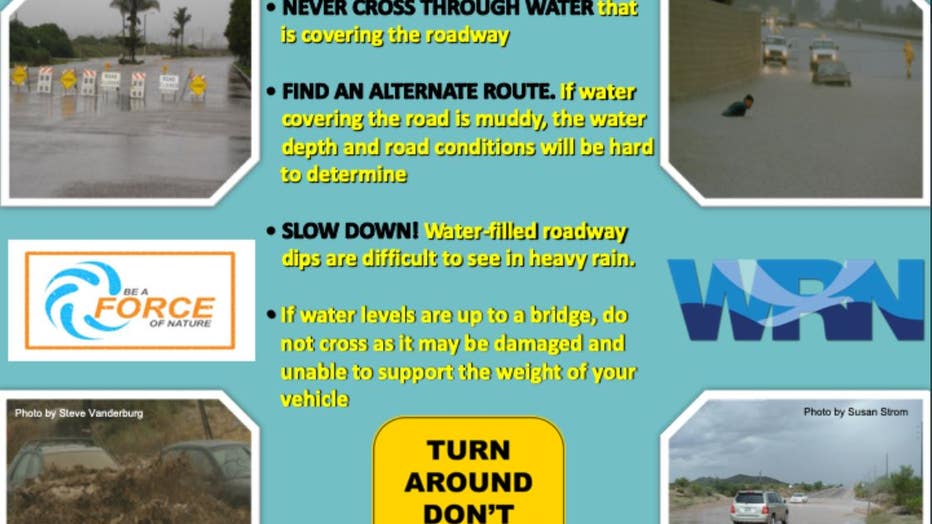 The Inland Empire is expected to see gusts of up to 30 mph overnight with 70% chance of precipitation, according to the National Weather Service.
If you are driving and encounter a traffic signal that is not working, always treat the intersection as a 4-way stop. The Los Angeles Fire Department released a few safety tips. 
"No signal lights" should be treated as a 4-way stop. 
"Flashing red lights" should be treated as a stop sign. 
"Flashing yellow lights" drivers should proceed with caution.
DRIVING IN SNOW?
For those facing winter weather, officials with the city of Big Bear Lake offered the following set of advice:
Keep tire chains and cables in your vehicle
Practice putting on tire chains
Consider utilizing Mountain Transit's free trolley service
Avoid lake ice