Samsung launches Bixby Marketplace, an app store for its AI assistant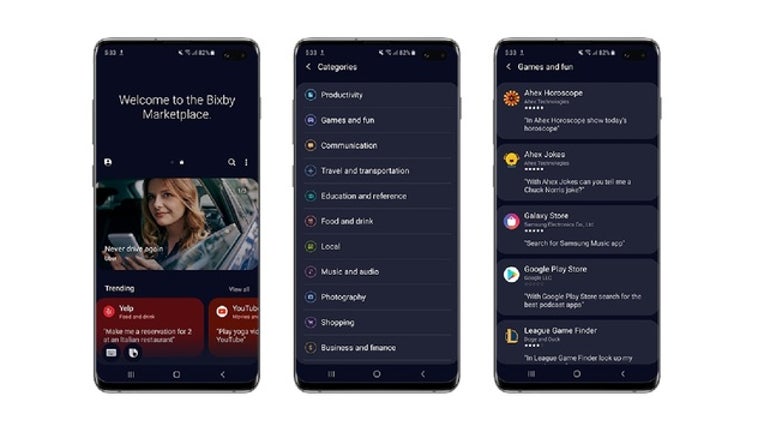 San Jose, Calif. (KTVU) - Samsung announced the launch of an app store for Bixby, its personal voice assistant in US and Korea Monday. Similar to Alexa skills, the app store, called Bixby Marketplace will let users browse and add new services (called capsules) to the voice assistant. 
Bixby, launched in 2017 comprises of three components – Bixby Voice, Bixby Vision, and Bixby Home. Bixby Voice lets you talk to your phone instead of operating it through touch – and do things like send texts, change phone settings, or make a call. Bixby Vision uses the camera to provide functionality like text translation and augmented reality. Bixby Home provides personalized information on the phone's home screen by analyzing patterns in your phone usage, time and location. Bixby is exclusive to Samsung devices – and available on its smartphones, TVs, smart speakers, and refrigerators. Languages currently supported by Bixby include Korean, US and British English, Mandarin, German, Italian and Spanish.  
The marketplace can be accessed by swiping left on the Bixby main page – it features categories like Productivity, Games and fun, Communication, Business and Finance, and more. Capsules can be searched by name, developer, or keyword, and the marketplace features curated staff picks and user reviews. Notable capsules at launch include Google Maps, Spotify, iHeartRadio, NPR, and Yelp.
Bixby Marketplace was announced in November 2018, when Samsung launched Bixby Developer Studio, an Integrated Development Environment (IDE) to woo third-party developers on to its AI platform. 
In terms of US market share, Bixby (6.23 percent) trails behind Apple's Siri (45.64 percent), Google Assistant (28.70 percent), and Amazon Alexa (13.20 percent), according to market research by voicebot.ai from May 2018.