San Francisco businesses damaged in 3-alarm West Portal fire to get city relief funds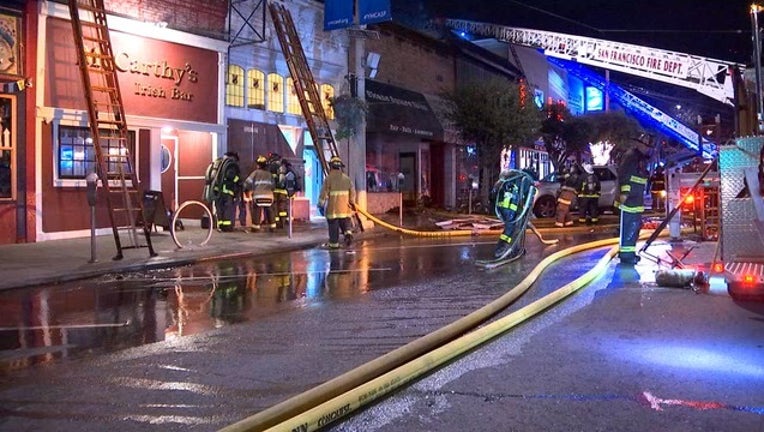 article
SAN FRANCISCO (BCN) - Three businesses damaged in a three-alarm fire in San Francisco's West Portal neighborhood late Tuesday night will be eligible for up to $10,000 in disaster relief funds, city officials said today.
The fire in the first block of West Portal Avenue, which was reported around 10:42 p.m., went to three-alarms and caused a roof collapse that forced firefighters to retreat and fight the flames from the outside before it was brought under control shortly before midnight, according to fire officials.
There were no injuries or residents displaced, but three businesses, Papenhausen Hardware, the West Portal Daily and Sloane Square Beauty Salon, suffered fire and water damage. The three businesses employ 18 people between them, officials said.
In response, Mayor Mark Farrell today directed the Office of Economic and Workforce Development to activate the Small Business Disaster Relief Fund, which will allow them to receive up to $10,000 each for inventory replacement, equipment purchases, security deposits for a new 
lease, employee salaries and other expenses.
"Dealing with the trauma of a fire is difficult and we are here to support our small business owners and their employees," Farrell said in a statement. "We want them to be back in business as soon as possible. Our city succeeds when our small businesses succeed."
"The fund is valuable as it will help cover expenses in these difficult times," said Matt Rogers, owner of Papenhausen Hardware.
The relief fund was created by Mayor Ed Lee following a fire at 22nd and Mission streets in 2015 that displaced a number of small businesses and residents, and is intended to help stabilize businesses and provide capital while they work to reopen. It has provided aid to 15 businesses since its creation.
The city also provides services including job search assistance for affected employees, access to unemployment information, small business loans and guidance on licenses on permits.