San Francisco firefighter critically injured in line of duty regains consciousness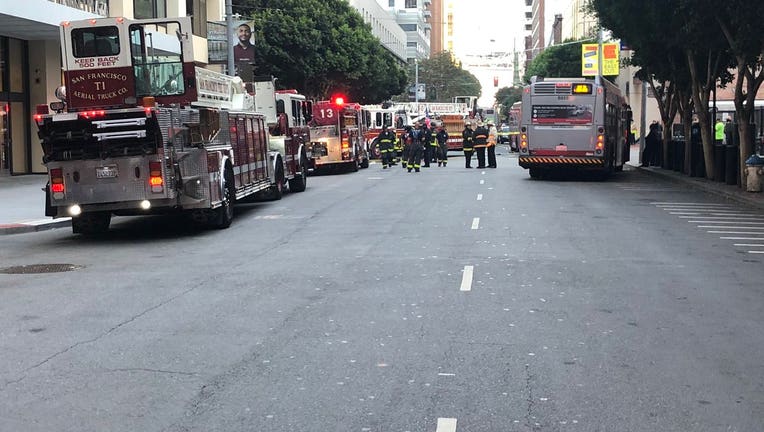 SAN FRANCISCO - A San Francisco firefighter who was injured Monday while he was responding to a downtown high-rise fire, has regained consciousness at the hospital and is expected to survive, officials say.
The firefighter, identified as six-year veteran, Matthew Vann, was initially listed in critical condition, San Francisco Fire Department spokesman Lt. Jonathan Baxter said. 
SF Fire Department responded to the one-alarm electrical fire at around 3:30 p.m. on the 19th floor of a building located at 55 Spear Street near Market Street. 
The building's management assisted the fire department in extinguishing the flames.
But as the fire was happening, Baxter said a Muni bus drove through the incident's operational area.
The operator of the Muni 9 San Bruno bus drove along Spear St. It appears the bus drove over a water hose. The hose was thrown upward into the air. 
This resulted in Vann, of Engine Company 1, to be thrown into the air, landing on his head resulting in the immediate loss of consciousness and him not breathing.
It's unclear how a Muni bus was able to drive through an active fire scene. Baxter said as standard procedure all the fire vehicles had their emergency lights on. He did not give details as to whether police or the Department of Parking and Traffic were on scene to secure the area before the accident. 
The fire department is investigating the incident, but has not concluded the Muni bus caused Vann's accident. 
San Francisco Municipal Transportation Agency (SFMTA) said the Muni bus driver has been with the agency for nearly six years. The Muni operator will be drug tested and placed on non-driving status pending the outcome of the investigation.
Vann, who is in his thirties, was taken to Zuckerberg San Francisco General Hospital where firefighters gathered to support one of their own. His family and his girlfriend were notified of his injuries. 
Baxter said Vann was in and out of consciousness at the hospital, which is better than his condition at the scene of the accident. 
Last month the department suffered a loss when firefighter Jason Cortez was killed during a training accident. 
"As our community usually relies on us to provide these services of comfort and care, we know you've given it to us during that trying time and we're asking you to continue to give, which we know you will," said Baxter.
SF Fire Department, SFMTA, SFPD, and CAL/OSHA have launched a joint investigation.