San Francisco joins Oakland, raises minimum wage to $12.25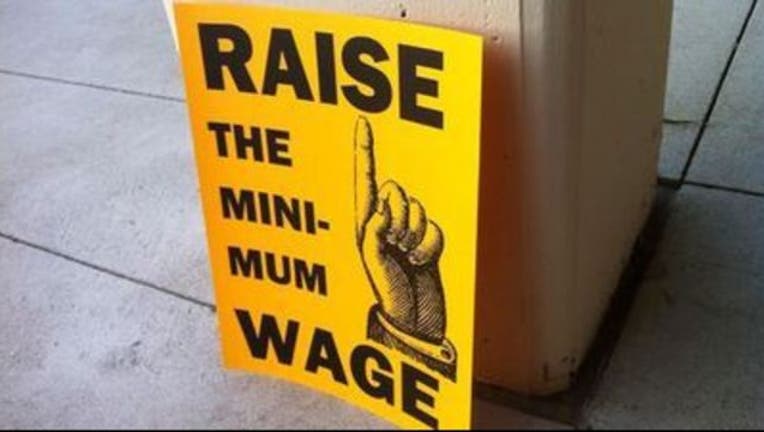 article
SAN FRANCISCO (KTVU and wires) -- Starting Friday, San Francisco will join the city of Oakland in having the highest minimum wage in the nation as it increases its minimum wage from $11.05 to $12.25.
Affecting more than 142,000 workers, the pay hike is the first in a set of increases that will see the minimum wage rise to $15 per hour by 2018, according to officials from the Service Employees International Union 1021.
The increase comes after Oakland increased its minimum wage on March 2.
On April 15, fast-food workers and other low-wage workers drew national attention as they held protests across the country, including in the Bay Area, to demand higher wages.
"Fast food workers have been an incredible inspiration in the fight for $15," said Alysabeth Alexander, SEIU 1021's Vice President of Politics.
"They have sparked a mass movement on behalf of all the low-wage workers in our society. This economy is not working for everyday workers. We need to fight for $15, raise the minimum wage and treat workers with the dignity and respect they deserve," Alexander said.
The cities of Emeryville and Berkeley are also hoping to join the path to $15 an hour.
A proposal in Emeryville will be considered on the first reading by the City Council and calls for a minimum wage of nearly $16 by 2019, with workers at major employers earning an immediate jump to $14.42. The proposal also guarantees paid sick days for workers, protects tips and ensures wage increases alongside inflation, SEIU officials said.
In June, Berkeley's Labor Commission will bring the City Council a proposal to raise the city's minimum wage to $15.99 by 2017. Currently the minimum wage in Berkeley is $10.
"We are winning the Bay Area's fight for $15. The Bay Area is moving to develop the first regional standard in the country for wages and working conditions," said Gary Jimenez, SEIU 1021's Vice President for the East Bay. "San Francisco and Oakland have set the standard, now it's time to expand to Berkeley, Richmond, Emeryville and beyond."
According to SEIU 1021 officials, the union will continue working with community groups in other Bay Area cities considering raising their wage.
Voters in both San Francisco and Oakland overwhelmingly approved the raises last November. In San Francisco, proposition J won with 78 percent of the vote and in Oakland, Measure FF won with 82 percent. The two initiatives were each originally filed by a coalition of SEIU members, community-based organizations and fellow labor unions.