San Francisco public works confiscates more e-scooters citing complaints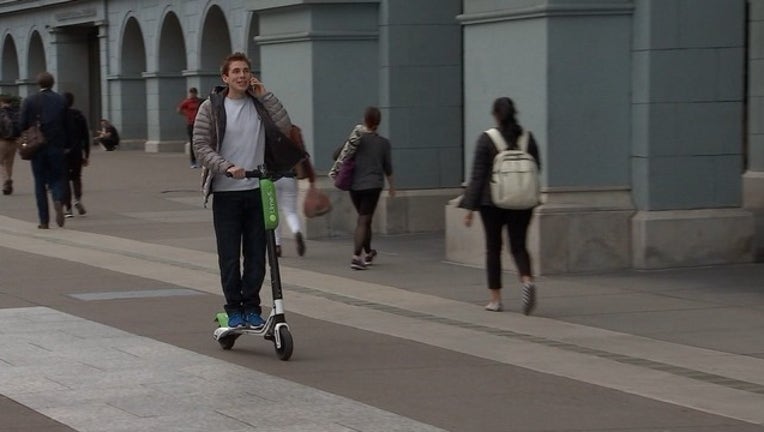 article
SAN FRANCISCO (BCN) - Crews with the San Francisco Department of Public Works this afternoon began confiscating multiple powered dockless scooters throughout the city, for what the department's spokeswoman said is a "flagrant disregard for the rules."
According to DPW spokeswoman Rachel Gordon, 24 scooters were seized this afternoon after DPW continued to receive complaints from residents who said the scooters were obstructing sidewalks.
"If these motorized scooters are going to be operating, they need to be operating legally," Gordon said. "We really have to keep the integrity of our sidewalks."
DPW crews will be out again Thursday, looking for scooters obstructing sidewalks, according to Gordon.
On Friday, DPW crews confiscated 66 scooters because of the complaints, Gordon said.
The scooters were deployed throughout the city in March by companies LimeBike, Spin and Bird. The scooters, which have a GPS device that allows users to find them via a mobile app, are often seen being used on sidewalks and left unattended, oftentimes on their side.
Today's confiscations come on the heels of the Board of Supervisors' unanimous vote to require the scooter share programs to seek permits for their vehicles. Unpermitted scooters would be subject to 
confiscation by DPW, according to the ordinance, which was sponsored by Supervisors Aaron Peskin and Jane Kim.
The ordinance, however, will take about a week to go into effect. In addition, an online permit application for the share companies wouldn't be ready until at least mid-May.
In addition to drawing the ire of residents, supervisors and DPW, on Monday, City Attorney Dennis Herrera sent cease and desist letters to the three scooter share companies. While noting that LimeBike, Spin and Bird had disregarded previous warnings, the letters demanded that they all stop operating unpermitted as the scooters are "creating a public nuisance on the city's streets and sidewalks and endangering public health and safety."
LimeBike spokesman Joe Arellano said Tuesday in a statement that the company is taking the Board of Supervisors vote and the cease and desist letter from Herrera seriously.
"In response, we are updating our current community outreach plan to address the city's concerns about pedestrian safety, parking compliance and rider education. We plan to roll out new initiatives, along with our complete response to the city attorney by the end of the week," according to LimeBike's statement.
In the meantime, LimeBike said it will hand out helmets to users Sunday at their San Francisco headquarters, will develop a new feature on their app for riders to send a picture of their scooter at the end of their ride to ensure that it's properly parked and will ensure that users are aware that riding on or blocking sidewalks is illegal.
"We recognize that we can't fix every concern overnight, but as a Bay Area company, we want to be lasting partners with the city and county of San Francisco," the statement said.