San Francisco's Chase Center to host NBA All-Star Game 2025
SAN FRANCISCO - The epicenter of basketball will be San Francisco for a winter weekend in 2025. That's because fans will be treated to the 74th NBA All-Star Game at San Francisco's Chase Center. 
It's the first time the Bay Area has hosted All-Star weekend in 23 years. It will also be the first time the Chase Center gets to host the event since the state-of-the art arena opened in 2019. 
The game is scheduled for Sunday, February 16, 2025. NBA All-Star on-court events tip off on Friday, Feb. 14 with more events to follow on Saturday. 
"It's a thrill to be back. I was here when it was last in the Bay Area in 2000" NBA Commissioner Adam Silver said. "This will be the epicenter of basketball around the world." 
NBA officials made the announcement Monday at a news conference at the Chase Center, flanked by mayors London Breed, Sheng Thao and Matt Mahan of San Francisco, Oakland and San Jose respectively. 
Golden State Warriors Executive Chairman Peter Goober said the event will be for a global audience. 
Oakland Arena hosted the All-Star Game in 2000. The 1967 All-Star Game was held at the historic Cow Palace in Daly City. 
"Those were two great events, but I think what we're really looking forward to is next year, a little over a year away here," said Warriors co-executive Chairman Joe Lacob. He said he hopes Warriors star and point guard Stephen Curry gets to play for the first time in front of home fans at the All-Star Game. 
"It'd be cool, now that I've been in the league and Chase Center and all that, ready to host and put the building and the city on full display for the world that weekend," Curry said on social media.
In a recorded promo on the Warriors' social media, Guard Klay Thompson said, "I think the Bay Area deserves it. It's a hotbed for basketball and that'll just be a great weekend of fun." 
"I think it's pretty, freaking cool. I just hope the Warriors can be contending for a championship at the time," said Warriors fan Ivan Gavric, of San Jose.  
Silver said fans can expect a "back to basketball approach." He noted it will be traditional East versus West with, "no trick endings." 
Breed was seated on stage and spoke at the event. The enthusiastic moderator asked the SF native, who was said to have grown up 20 minutes away from the Chase Center, what it meant to her to host the event. 
With a grin on her face, Breed said what it means is, "a lot of money and a lot of visitors." Breed said she expects 135,000 people will be coming to the Bay Area to participate in some capacity over the three-day period. "That's an anticipated $350 million poured into local economy through local business and all the surrounding activities for All-Star Weekend." 
Hosting the NBA All-Star Weekend in the Bay Area is also expected to have a direct impact on local businesses. Shaun Fletcher is a Professor of Public Relations at San Jose State University. He also serves on the Academic Advisory Board for The Institute for the Study of Sport, Society and Social Change at SJSU. 
"Bay Area local eateries will see the benefits of it, tourist attractions will see the benefits of it. Hotels and a number of different attractions in the area are going to see a lot of revenue being pumped into this economy," said Shaun Fletcher, San Jose State University  
All-Star Weekend 2025 is the third major sporting event to be held in the Bay Area. Super Bowl 60 and the FIFA World Cup will be hosted at Levi's Stadium in 2026. Sports fans we spoke to say they're not surprised the region is often selected to host world-class events. 
"In most parts of the country, you go to a hotel, and they're busy on the weekends. You come to the Bay Area, and you go to a hotel, and they're busy on the weekdays. So, this is a business center," said Michael, of San Jose.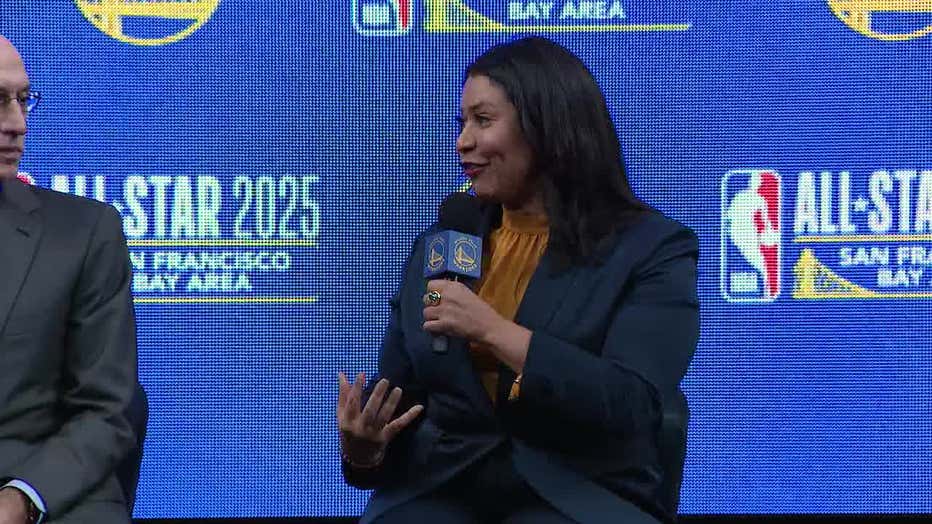 San Francisco Mayor London Breed at the Chase Center. November 6, 2023. 
"I, for one, can't wait. There'll be parties, activities, fun and everything else. In addition to that, we have a WNBA team that will be here in 2025, so all those things in addition to the over 300 activities at the Chase Center. This is like the icing on the cake," Breed said. 
MORE: Warriors' fans share love for the team despite opening game 104-108 loss
Aside from the economy, Breed touted San Francisco as one of the most beautiful cities in the world for tourists or people who come to work and attend its many conventions. 
"This particular event is long overdue to have it right here in the Bay Area. San Francisco Chase Center is the perfect place to do so," Breed said, noting that the new arena is accustomed to hosting global, world-class events, sports, and concerts. 
This season's All-Star Game will be in Indianapolis.
KTVU's LaMonica Peters contributed to this story.