San Jose high school coach on the court as former player wins NBA championship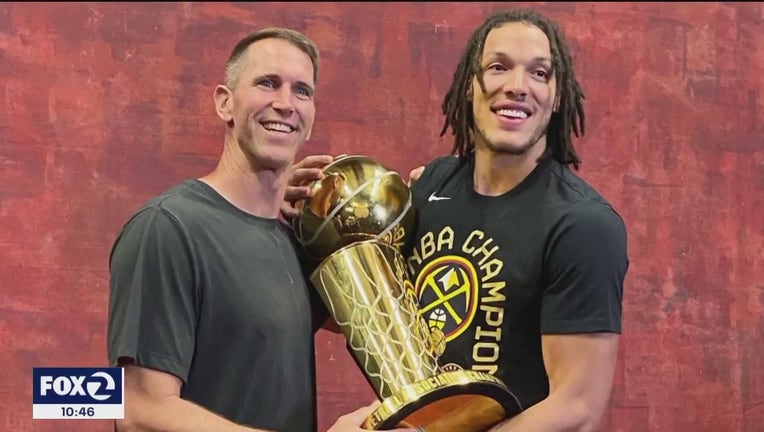 article
SAN JOSE, Calif. - The Denver Nuggets won the NBA Championship for the first time in team history Monday night, and they had some help from a former San Jose high school player. Aaron Gordon played at Archbishop Mitty High School from 2009-2013. 
Head coach Tim Kennedy has coached at Archbishop Mitty for 15 years, and says he met Gordon in his second year as coach. After winning two state championships with Gordon, he says they have an unbreakable bond and watching him win Monday night was a dream come true.  
"Surreal. Like a dream. I'm still coming off a natural high," said Kennedy.  
After the Denver Nuggets beat the Miami Heat in five games to win this year's NBA championship, Head Coach Tim Kennedy was on the court to celebrate with his former player at San Jose's Archbishop Mitty High School. Aaron Gordon, who plays the Power Forward position, has played with the Nuggets since 2021. 
"I didn't get a lot of sleep last night, but it was definitely well worth it! But a special moment was getting to take a picture with him with the Larry O'Brien trophy. Just sharing that moment with him knowing that we talked about getting to the mountain top of an NBA championship," Kennedy said. 
Gordon helped Archbishop Mitty win back-to-back state championships in 2011 and 2012, was crowned California Mr. Basketball twice and was named MVP of the 2013 McDonald's All-American Game. Gordon's achievements throughout his career, including becoming an NBA champion, has had a huge impact on current Mitty basketball player Dante Ventura.  
"It's really inspiring. The level you have to be at, one to make it to college, to make it to the NBA, and anything above that. But not a lot of people get to play the Finals, let alone win it," Ventura said. 
SEE ALSO: Oakland A's victorious as fans hold reverse boycott, pack Coliseum
As Kennedy reflects on Gordon's championship win, he says he's learned a lot as a coach over the years including how to keep players motivated. He says teaching them the basketball fundamentals is important, but instilling a winning attitude in players is key.   
"That's where we really try to bring the mental toughness, learning how to compete and finding ways to win. Aaron really embodied that," Kennedy said.   
Coach Kennedy says after things settle down a bit for Gordon, he hopes to get Aaron back to San Jose for a campus visit.