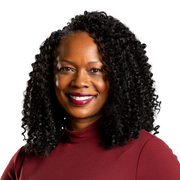 LaMonica joined KTVU in May 2022 and is excited to be working in the Bay Area. She loves the laid-back, tech-influenced atmosphere of the South Bay and looks forward to telling stories that will impact the community.  
LaMonica's fascination with broadcasting started in Los Angeles with Crenshaw High Cougar News. She would address classmates via closed-circuit TV each week as Student Body President. She'd also go to the top urban L.A. radio station to announce the most popular songs voted on by students. That was her first taste of being in broadcasting and she loved it! After finishing her Communications Studies degree at UCLA, she taught school in the Los Angeles Unified School District but ultimately, decided to pursue her dream job as a broadcast journalist. Her work has now been seen nationally on CNN, CBS, ABC News and Spectrum Networks.  
To kick-start her broadcasting career, she went back to radio where it all began. She volunteered at two local radio stations while still working full-time. LaMonica interned at KJLH-FM, a station she grew up listening to and where she learned the positive impact local media outlets can have on a community. She also worked at KPFK-FM, a public radio station in Los Angeles, where she hosted "The Peters Poll" as a part of a public affairs show. It was her first chance to use social media to interact directly with listeners. She'd pose a question to the audience about a hot topic on Facebook and then read some of their responses on air.   
After working in radio, she made the decision to pursue a career in television news. Soon after, she moved to Greenville, MS to be the Weekend Anchor and Reporter at WXVT.  Then she moved to WCBI News in Columbus, MS. She covered the devastation left behind after 23 tornadoes ripped through Mississippi on the same day, taking the lives of 14 people. LaMonica also interviewed Sabrina Butler, the only woman in America to be exonerated from death row, as she campaigned around the country to eliminate the death penalty.  
She was honored by the Mississippi Associated Press for Public Affairs in 2014. She was recognized for a 3-part series on breast cancer. Her Aunt was diagnosed with breast cancer the year before and now thankfully she's a survivor. LaMonica also began teaching communications and theatre classes at Mississippi State University, the largest college in the state, as well as Mississippi Valley State University, an HBCU.    
After working in Mississippi for 3 1/2 years, she headed north to Buffalo, NY as a Reporter for Spectrum News. She traveled to Flint, MI to cover a Buffalo-based church as they delivered bottled water directly to the community after the city's water system had been contaminated. She covered breaking news and around-the-clock severe weather, while filling-in as Anchor. In June 2017, she was also recognized by the New York State Associated Press Award for Public Service. She contributed to a series of stories about city sidewalk conditions, after a 7-month-old baby in a stroller was hit and killed by a car.  
LaMonica moved back to the West Coast to work as a freelance reporter in Seattle. In 2019, Seattle had one of the biggest snow storms in a century, and she was an integral part of the coverage alerting viewers of the dangers and ways to get help if needed. She also reported from one of the largest, environmental student protests for ABC News Live. LaMonica also appeared as a guest panelist on Seattle Refined, a lifestyle show for KOMO News.  
After working in Seattle, she returned to Southern California in San Diego. LaMonica started at CBS 8 at the height of the pandemic in late 2020, working remotely. Still she was able to really connect with the community and do the work she's always wanted to do: stories about people! She also continued educating the next generation of journalists at Palomar College in San Diego County, teaching a broadcast and media writing class.   
When not telling stories or teaching, LaMonica loves spending time with family and friends, watching sports, traveling and mentoring budding journalists.  
The latest from LaMonica Peters