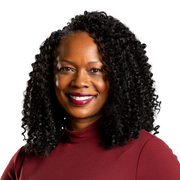 LaMonica started working at KTVU in May 2022. She previously worked at CBS 8 in San Diego, KOMO News & Fox 13 in Seattle, Spectrum News in Buffalo, NY and WCBI in Columbus, MS. 
LaMonica was raised in L.A.'s Crenshaw District and graduated from UCLA with a B.A. in Communication Studies. She was also chosen to be a Knight Digital Media Fellow at UC Berkeley in 2010 and has a M.A. in Theatre Arts from Cal State L.A. LaMonica is currently an Adjunct Asst. Professor at Palomar College, teaching a broadcast & media writing course online.  In 2013, she began her collegiate teaching career at Mississippi State University and Mississippi Valley State University. 
LaMonica lives in the South Bay, and loves its laidback and tech-influenced feel. She loves spending time with her family and friends, traveling, watching sports, spa days and mentoring budding journalists. 
The latest from LaMonica Peters