San Jose construction company workers stalked by ex-employee, police say
SAN JOSE, Calif. - San Jose police on Monday announced the arrest of an ex-employee from a local construction company on felony stalking charges and seized multiple guns and ammunition from him.
Bryan Velasquez, 43, of San Jose, was identified as the suspect. He was not immediately available for comment. It wasn't immediately clear if he had an attorney to represent him. 
San Jose police detectives said Tuesday they likely headed off a similar mass shooting that happened in Uvalde, Texas.
"We believe we prevented some sort of mass casualty incident, by taking this person into custody, and seizing all of his firearms," said Sgt. Christian Camarillo, a department spokesman. 
Investigators said Velasquez was armed to the teeth with weapons, parts to assemble ghost guns, hundreds of rounds of ammunition, and ballistic body armor.
Velasquez was fired from his construction job in January. Investigators said the termination enraged him, and led Velasquez to post violent threats on social media that targeted some of his former coworkers.
"This guy, from all indications, was ready to carry out these threats that he was making," said Camarillo. 
Police said that Velasquez's behavior was escalating and he began posting pictures of himself pointing firearms on social media, sending e-mails to employees with threats littered with profanity, and using his intimate knowledge about where his former co-workers lived and what they did every day. 
His alleged actions come as the city of San Jose prepared to mark the one-year anniversary of the deadliest mass shooting in the Bay Area's history.
In May 2021, VTA employee Sam Cassidy killed nine coworkers and himself.  Federal agents said at the time that journal writings showed his seething hatred before that attack.
Investigators from multiple agencies worked quickly to prevent a repeat of history by Velasquez, by obtaining a gun violence restraining order from a Santa Clara County Superior Court judge.
"It's intended to disarm people who are violent, but who have not yet committed an act of violence with a firearm. This is exactly the case it's intended for," said Marisa Mckeown, the supervisor in the district attorney's Crime Stategies Unit. 
Law officers arrested Velasquez May 19 for the alleged threats he made against coworkers in April. And, they confiscated his cache of weapons.
"Taking swift action to disarm this individual is what needed to happen to prevent a potential tragedy," said Mckeown.
Velasquez is charged with one count of stalking. He posted a $50,000 bail bond, and was released from the Santa Clara County.
Investigators are checking all of the seized weapons to see if any are illegal in California. Officials said more charges, for weapons violations, are likely.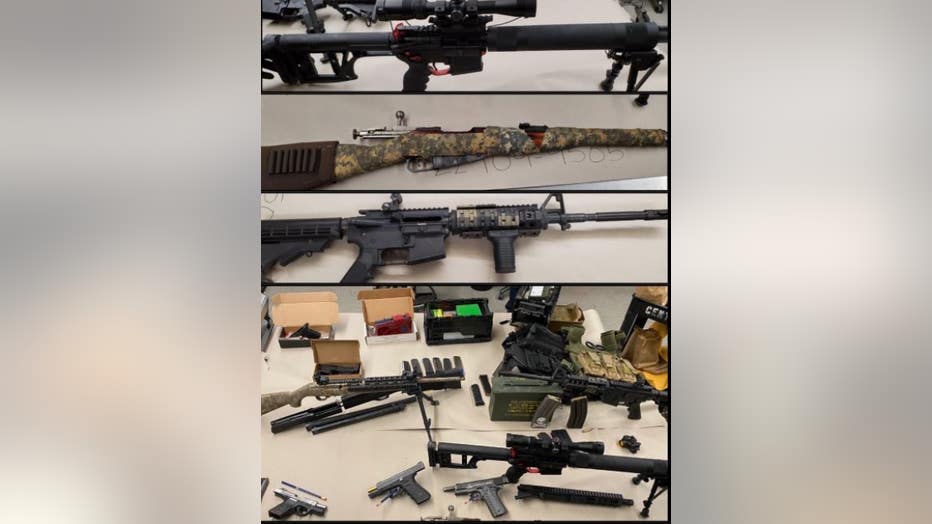 Police seized two AR-pattern assault rifles, high capacity magazines, hundreds of rounds of ammunition, tactical body armor and materials to manufacture and assemble ghost guns.