San Jose residents call for serious crackdown on fireworks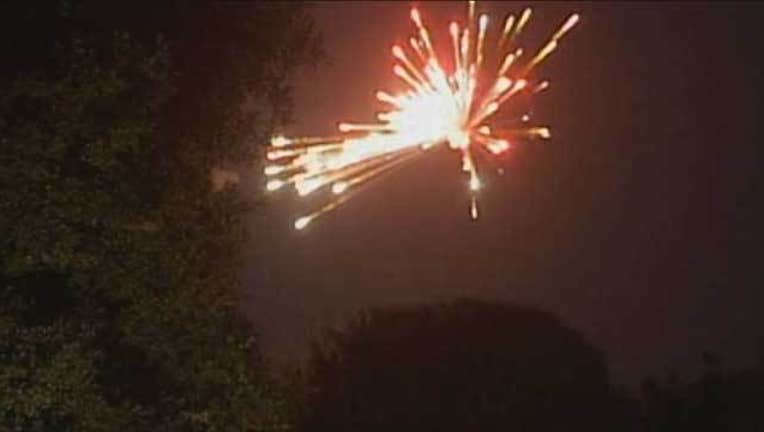 article
SAN JOSE, Calif. (KTVU) -- A South Bay home went up in flames over the weekend, just one of numerous incidents during the holiday that were sparked by illegal fireworks.
Investigators on Monday were still trying to determine who lit up the illegal firework that rendered the San Jose home uninhabitable.
The San Jose Fire Department said the firework landed in the backyard of a home on Yerba Buena Road around 9:30 p.m. Saturday evening. Neighbors reported hearing more fireworks go off as firefighters were dousing the flames.
The fire displaced four people who lived there.
Neighbors in San Jose said they're fed up and frustrated with firework-related problems during the July 4th holiday. At least one person was arrested in Los Gatos for firing fireworks.
"From about 9 p.m. till about midnight, all of San Jose was a combat zone," said Jeff Levine of San Jose.
Levine lives near downtown San Jose. His home security camera captured 60 to 70 explosions within 45 minutes.
When he called 911, he got a busy signal and was then re-routed to a non-emergency dispatch line. Similar video on next door shows fireworks in the East San Jose foothills.
"This is the probably most volatile issue that I've seen in San Jose and it's obvious our city can't deal with it," said Levine.
San Jose Police said its special operations division was working July 4. The Santa Clara County Sheriff's Office had two bomb team members and four additional deputies.
"The problem is by the time we get to the scene, we never get addresses because people don't know the address," said Sgt. James Jensen of the Santa Clara County Sheriff's Office. "They just see them in the general area."
An arson investigator from Santa Clara County Fire showed KTVU the explosives he confiscated at a home in Los Gatos. The most dangerous fireworks easily had enough flash powder to blow off body parts.
"The amount that I confiscated was probably one tenth or maybe less of what they had originally most of it had been blown off," said Arson Investigator Cronin of Santa Clara County Fire Department.
He said the homeowner was slapped with a misdemeanor and could face a $1,000 fine and up to six months in jail.
Levine is calling for greater punishment for those who sell and use fireworks, making it a point they won't be tolerated in his city.