San Jose State honors former student, current ESPN reporter Marc Spears
SAN JOSE, Calif. - A local San Jose sports journalist who won national praise for his impactful writing on race was honored Saturday by his South Bay alma mater.
Marc Spears, a reporter for ESPN and Andscape, is one of more than two dozen recipients thus far to rbe honored with the William Randolph Hearst Foundation Award for excellence in professional journalism.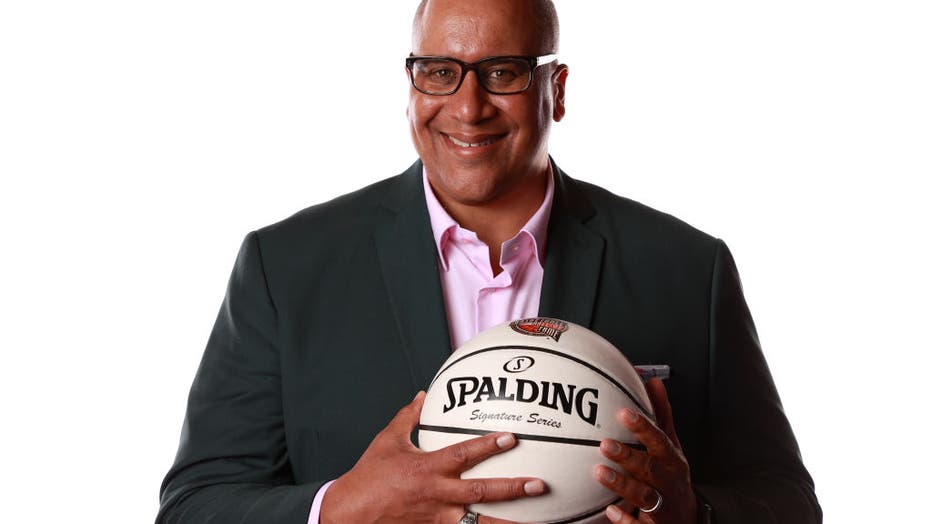 UNCASVILLE, CONNECTICUT - AUGUST 11: Curt Gowdy Award for Print Media winner Marc Spears poses during the 2023 Naismith Hall of Fame Awards Gala at Mohegan Sun on August 11, 2023 in Uncasville, Connecticut. (Photo by Mike Lawrie/Getty Images)
San Jose State University's School of Journalism and Mass Communications gives the award annually in recognition of excellence in journalism. Spears graduated from SJSU in 1995.
Spears' stories focusing on racial disparity in the NBA coaching ranks garnered him national attention. Earlier this year, the NBA announced Spears will be enshrined in its Hall of Fame due to his career accomplishments. 
Spears was emotional while accepting the Hearst Award inside the Hammer Theatre Center as he reflected on his 30-year career and the role SJSU played in molding him into a professional.
"Man, I'm crying about the journey," Spears said. "You know, [I'm] a kid from East Side San Jose. I dreamed about being a sports writer from 7th grade on, but I didn't anticipate this. I didn't anticipate the school caring this much. The city caring this much."
Spears credits his teachers and mentors with helping him find his career path. He advises students to combine their true passion with what they enjoy studying in college to find a job and career that'll make them happy.
Spears is racking up the awards. In August, he received the 2023 Curt Gowdy Media Award as well. 
"From his earliest days in school, and throughout his time as an SJSU Spartan basketball player and sports writer for the nationally acclaimed campus newspaper The Spartan Daily, Spears ​h​as stood out for his relentless passion, and extraordinary dedication to the sport," the SJSU Journalism department said in a statement. "His in-depth knowledge and understanding of the game, professional standards and style have earned him the respect of players, coaches, and team managers nationwide."