San Leandro city manager under investigation for sexual misconduct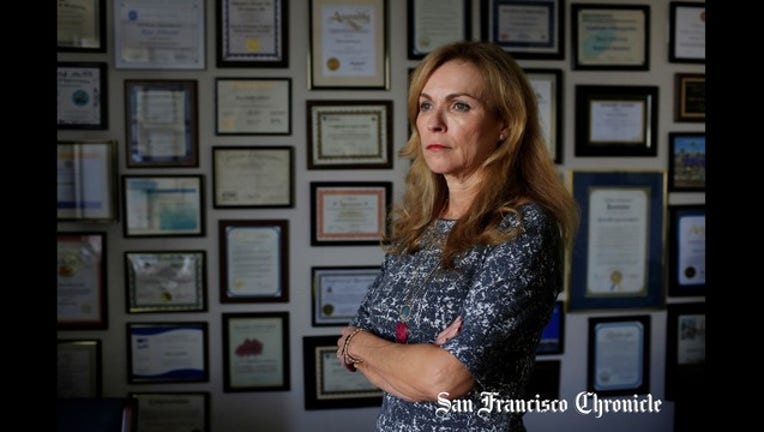 article
SAN LEANDRO, Calif. - San Leandro city officials are investigating City Manager Chris Zapata after the head of a non-profit filed a harassment complaint claiming Zapata suggested a sexual relationship in exchange for continued public funding of services for the working poor. 
Rose Padilla Johnson, CEO of Davis Street Family Resource Center, was subjected to "a pattern of sexual harassment, political pressure and ultimately defamation by City Manager Chris Zapata," according to a complaint filed by attorney Jane Brunner of Siegel, Yee & Brunner in Oakland. 
Johnson is calling for him to be fired.
In a rambling 23-page letter sent to the center's board of directors this week, Zapata admitted that he successfully lobbied the San Leandro City Council to award a $1.5 million loan to Davis Street amid doubts that it could repay the money. 
But he denies any wrongdoing. Zapata did not respond to an email or a phone call seeking comment Thursday. 
The assistant city manager told KTVU that Zapata won't comment on the accusations until the city's misconduct investigation is complete. It was not immediately clear Thursday if Zapata will be placed on administrative leave during the investigation, a standard practice in cities. 
Johnson claims the abuse began when Zapata first became city manager in 2012.
 Johnson wanted to speak to Zapata about grants the nonprofit sought from the city. But rather than meet at city hall, Zapata suggested they meet in her car at a Fosters Freeze restaurant near her workplace. 
Over the next four years, Zapata demanded that these car meetings continue when Johnson was making requests for city funds or support. He talked about business, his family, being raised by a single mother and having an alcoholic father, but Johnson said he was often inappropriate. 
Johnson said that Zapata sometimes would play sexually suggestive music or give her CDs with suggestive lyrics. She told him the music or gifts were inappropriate, but he continued to compliment her clothing, painted toenails and looks, even suggesting that if she wasn't married he would be interested in a relationship. 
"It is wrong, it is unacceptable, and it is unconscionable to use a public office to attempt to pressure me or anyone else into having a relationship in exchange for public funds," Johnson said in a statement. 
She said she continued the meetings in the interest of the center. 
"I never wanted to point a spotlight on this behavior,'' she said. "I simply wanted to get funding for Davis Street so that we could do good deeds, but he wouldn't stop and his behavior became more aggravated and his name calling and defamation wouldn't cease."
In 2016, Johnson said she asked for an extension on repayment of the $1.5 million loan from the city.  Johnson claims Zapata told her: "Rose, you have the key." 
Johnson said she asked what he meant by that statement because she believed Zapata was requesting a romantic relationship. 
She said Zapata did not respond.
Johnson said she got out of the car and returned to her office in tears. She said she feared her rejection would impact relations between the city and her nonprofit. 
In the following month, Zapata responded to the loan extension request with a letter stating, "the repeated failure to meet contractually obligated payments, coupled with promises and representations made in writing that were clearly broken or untrue, creates serious doubt for the city that Davis Street is able to repay the $1.5 million (loan)," according to a letter sent to the San Leandro city attorney from Johnson's lawyer.  
In addition, he started to disparage Johnson and the organization to people in San Leandro, labeling Johnson a liar, and he publicly stated "promises (by Johnson) were clearly broken or untrue" and that the city had serious doubts that Davis Street could repay the loan, the letter says. 
Davis Street repaid the loan in full in January, 2017.
 
Johnson said she came forward after Zapata allegedly disparaged her late husband. 
"I didn't want to shine a light on this horrible situation, but I was forced to because it threatened more than me,'' she said. "It threatened my reputation and my ability to help people who really need help."