San Mateo police asking for help finding mall robbery suspects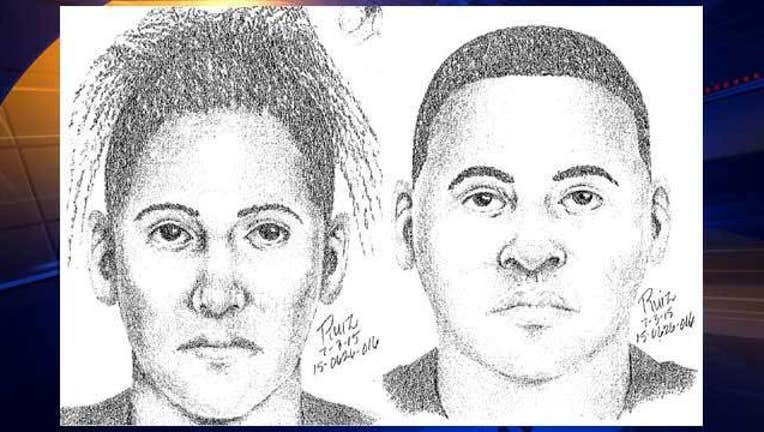 article
SAN MATEO, Calif. (KTVU and wires) -- Police are asking for help finding two suspects in a robbery at the Hillsdale Shopping Center in San Mateo last month, police said.
Officers responded at about 1:10 p.m. on June 26 and learned that a 37-year-old San Carlos resident was in her car when a man asked the woman a question through a partially opened driver's side window, police said.
She answered and then he demanded that she hand over her purse. When she refused, he tried to open the front driver's side door, police said.
The two were struggling over the door when a woman reached through a partially open front passenger window and stole a box. Police said the box was empty.
The victim and the male suspect continued to struggle over the door until the suspects became aware of mall security nearby. The suspects then ran to a vehicle and drove away south on South El Camino Real, according to police.
The victim suffered no harm in the robbery, police said.
Police are describing the male suspect as a light-skinned black man with short fuzzy hair who is 5 feet 6 to 5 feet 7 inches tall, about 180 pounds and about 20 years old.
Police are describing the female suspect as a light-skinned black woman with black hair in a ponytail who is 5 feet 6 inches tall, about 150 to 180 pounds and about 25 years old.
Investigators have released sketches of the two suspects and said the vehicle the suspects used was a 1990s-era white four-door sedan, such as a Nissan Sentra.
Anyone with information about the suspects is being asked to get in touch with Detective Ed Han of the San Mateo Police Department's investigations unit at (650) 522-7664.