Santa Rosa man arrested, accused of trying to burn house down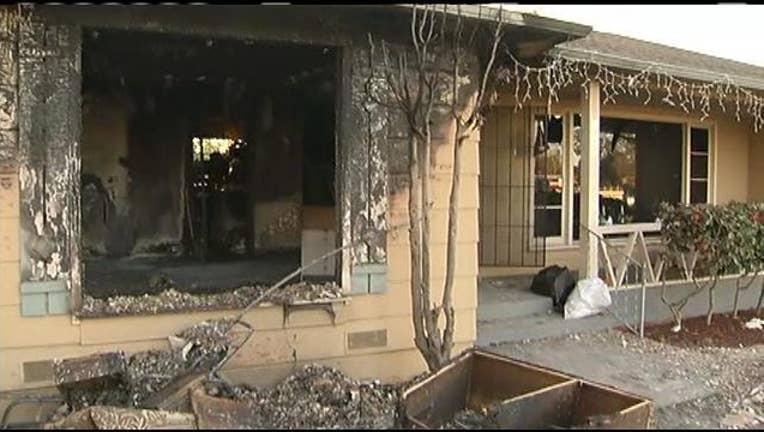 article
Police arrested Samuel Alvarez Cel on suspicion of arson and attempted murder.
The fire, at 1311 Petaluma Hill Road Saturday evening, gutted the rental that was home to seven adults and an infant.
Three residents were home at the time, and all escaped, but one man, said to be the suspect's brother, suffered serious burns.
"He put fire to the mattress and all this caught fire," resident Jose Uluac told KTVU, describing how he rushed home from work to find the house burning.
Uluac's roommates told him Cey doused his own mattress with gasoline in the living room, and lit it, then walked away down the street.
"A patrol officer was driving by and saw the fire," Santa Rosa Police Sgt. Marcus Sprague told KTVU, "so the response was quick."
That was fortunate, because the resident in a rear bedroom who smelled smoke had no luck putting the fire out with water from the kitchen.
He then ran to warn a man and woman in their room.
"They jumped this way, out the window," explained Uluac, showing KTVU the unburned side of the house where the couple escaped by pushing out the screen and running through the yard.
Just moments before, they had locked themselves in their bedroom because the suspect had threatened to kill the woman, who is his sister- in-law.
"It's a family fight, I don't know, " said Uluac wearily, as he tried to salvage what possessions he could in the ash and stench.
He says the Cey is generally quiet and causes no trouble in the household. and enjoys gardening in the yard.
For now, the displaced residents are staying with friends and family as they try to find new housing.
"He burned the house, he walked away and then he come back like nothing happened," exclaimed witness Israel Hernandez, who was among those who saw Cey watching the commotion from across the street, as the fire was winding down.
"We said to the police, 'he's the guy who burned the house'" added Hernandez.
"It is a little odd and you wouldn't expect a suspect to do that," confirmed Sgt. Sprague, "but the residents who were there watching, identified him as the suspect and we went over and detained him."
Sprague said Cey offered no explanation to the arresting officers.
Cey's sister-in-law, Terresa Campos, was treated for smoke inhalation, and released from the hospital.
His brother, Eleazar Alvarez, suffered second and third degree burns on his hands and head trying to flee in a burning hallway, before turning back and escaping out the window.