Search continues for presumed Campbell homicide victim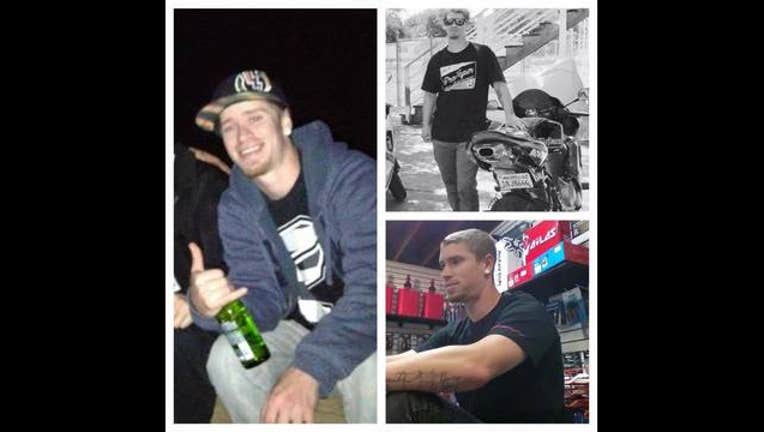 article
LOS GATOS, Calif. (KTVU) - The family of a missing Campbell man is asking for volunteers to help in the search.
In a Facebook message Kyle Myrick's father wrote, "Thanks to all who helped us search for Kyle today. A lot of ground was covered and eliminated from future searches."
He said there will be two staging areas for the search Wednesday. One of the staging areas is located at the summit of Highway 17 at 23123 Highway 17 in Los Gatos, while the second staging area is at GP Motorsports facility at 2035 Camden Avenue in San Jose. 
Volunteers will be meeting there starting at 8 a.m. 
San Jose Police along with Kyle Myrick's family made a public plea for information on the wheareabouts of the missing 28-year-old who disappeared on Friday.
Police arrested his co-worker, 39-year-old Steve Hlebo, for Myrick's killing despite not recovering a body.
Detectives are searching areas familiar with Hlebo, including the Cambrian neighborhood where the two worked, Los Altos where Hlebo lived, and the Santa Cruz Mountains.
In a jailhouse interview with KTVU, Hlebo maintains he's innocent.
"He's my baby, my only child and I really want him back," said Myrick's mother Kelly Sparry.
"Kyle is a good and kind person, always willing to help his friends out," said Myrick's stepfather. "We really want to bring him home."
On Saturday, police arrested Hlebo at his Los Altos home for Myrick's killing after they found evidence and a crime scene at a boarded-up building on Camden Avenue. Myrick and Hlebo worked next door at GP Sports.
On Sunday, officers re-canvassed the Cambrian neighborhood and searched a property off Mount Umunhum, an area familiar to Hlebo.
"As the investigation continues, there has been information that suspect Hlebo may have disposed of Kyle's body in the ocean but this has not been confirmed," said San Jose Police Chief Eddie Garcia.
"I drove over to Santa Cruz down the coastline back over towards Los Altos," said Hlebo.
In a jailhouse interview with KTVU, Hlebo admitted driving around Friday night to clear his head. When asked about Kyle's whereabouts, he said he didn't know claiming he may have been framed.
"I'm not a murderer," said Hlebo. "I didn't murder anyone. I'm innocent."
Myrick's family believes Hlebo's lying. So far, police have not disclosed a motive.
"We are confident with the suspect that we have in custody and we are investigating this case as a homicide," said Chief Garcia.
Police are asking for the public's help if they saw Steve Hlebo or his white GMC truck Friday night between the hours of 6 p.m. and 2 a.m. Police said his truck has tinted windows, is missing the release hatch on the tailgate and lights on the front bumper.
Hlebo is scheduled to make his first court appearance Wednesday. He's being held without bail.