Search for human remains ramps up with request for DNA samples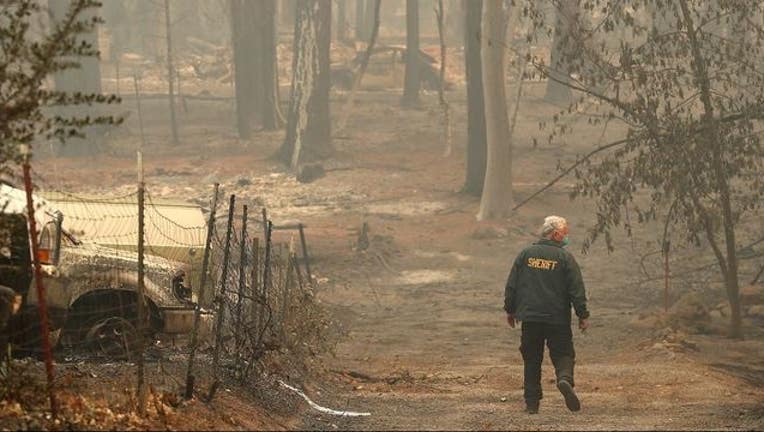 article
PARADISE, Calif. (KTVU) - Even the forensic anthropologists brought in to help identify the human remains say they've never seen anything like the devastation in the fire-ravaged town of Paradise. 
More than 460 people, including dozens of National Guard troops, two dozen cadaver dogs and three specially trained forensic anthropologists continue the grim and painstaking job of sifting through the rubble in Butte County looking for bodies, but mostly body parts. 
"We're skilled at telling the difference between burnt wood and burnt bones, and if they're bones we can tell if they are human or animal," Marin Pilloud, a forensic anthropologist with the University of Nevada, Reno, told the Reno Gazette Journal.
Amid the ash and rubble, reminders of death are not hard to find: blue body bags, a black hearse, yellow police tape and mobile morgues, all gut-wrenching indicators of a growing death toll. 
Kyra Stull, an assistant professor in the department of anthropology who is experienced in identifying burn victims, said the aftermath in Paradise is unprecedented.
"At this scale and size of the damage, I've never experienced anything like that before," Stull told the Reno Gazette Journal.
Interior Secretary Ryan Zinke, who visited Paradise along with Gov. Jerry Brown on Wednesday, said it was the worst fire devastation he had ever seen.
Meanwhile, Butte County Sheriff and Coroner Kory Honea on Thursday said that 631 people are still unaccounted for following the fire.
Honea said he believes there are people who fled the blaze and don't realize they were reported missing. The new figure jumped dramatically in just two days when Honea reported the number of missing at 130. 
He said the first figure was a partial count, and after authorities went back through all 911 calls and other reports of missing persons from the past week they came up with the new number.
Realizing the importance of identifying victims as quickly as possible, Honea is asking relatives of the missing to visit the sheriff's office in Oroville on Thursday to allow authorities to collect DNA samples from them.
Honea said requesting DNA samples from relatives before all the victims have been recovered is "unprecedented." 
"Nobody has ever had to do this before,'' he said. DNA samples are used when traditional identification methods, such as fingerprints and dental records, are not an option because of the condition of the body.
But the recovery of human remains starts with people like Bruce Wilkerson, who has been part of search and rescue teams for 35 years.  
Wilkerson knows the importance of the work to give families closure, but says the emotion of the task eventually catches up with searchers. 
"Later on, weeks later when we debrief and talk about it, yeah it bothers you,'' he said.
Butte County Sheriff Sgt. Steve Collins agreed. 
"It does take a toll, '' he said. "I know a number of our employees that are here, that are helping in this process... have lost their own homes. Yet they've been here every day."
When crews finish searching a charred home, property, business or vehicle, they leave behind a ribbon to indicate the search has been completed. But they know there is more work to be done elsewhere.  As of Thursday, the fire had scorched 220 square miles and destroyed 9,700 homes. Sixty-three people have been confirmed dead.