'Sell the team, dude': A's pitcher Trevor May announces retirement then rips team owner John Fisher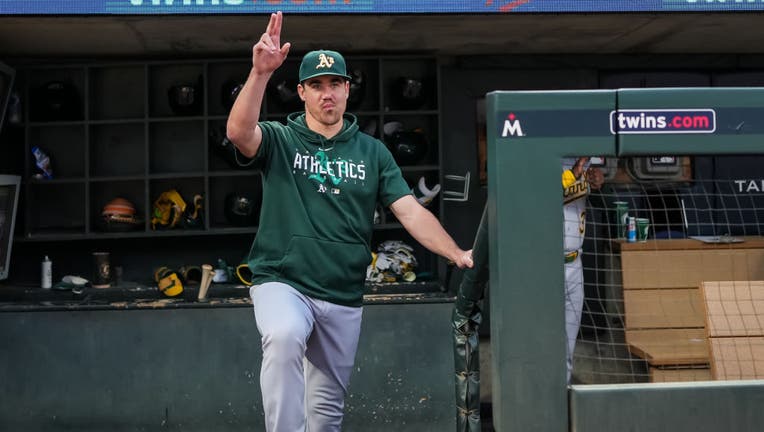 article
OAKLAND, Calif. - On Monday, the day Oakland Athletics relief pitcher Trevor May announced his retirement from baseball, he unleashed a blistering message for his former boss, A's owner John Fisher.
"Sell the team, dude," a disgusted May said during a live video on Twitch. The freshly retired player didn't refrain from holding back his feelings about the team owner, who has been moving forward with plans to relocate the A's to Las Vegas, which has sparked boycotts and a campaign to pressure Fisher to sell the team.  
"Let someone who actually takes pride in the things they own, own something. There's actually people who give a sh** about the game. Let them do it," May said. 
SEE ALSO: SF Giants' Alyssa Nakken interviews for manager's job, making history again
He also accused Fisher, whose parents founded Gap, Inc., of being greedy and criticized him for how he got his wealth. 
"Take mommy and daddy's money somewhere else, dork," May said. "Do what you're going to do, bro. You're whatever, you're a billionaire. You guys have all this power. You shouldn't have any because you haven't earned any of it… Reality is you got handed everything you had." 
The former A's pitcher went on to blast Fisher's handling of his plans to sell the team, saying he's failed to take ownership of how his actions would affect others.
"You're too soft to take any responsibility for anything you're doing," May said. "Oakland is Oakland. You can make all the cases… It's not a great city... blah blah blah blah… but you're putting hundreds, if not thousands, of people out of work that have worked somewhere for decades, and you haven't acknowledged that at all."
And 34-year-old called on Fisher to have integrity in his dealings with the future of the team. 
"Just be better. That's all we're asking. Just be a human being," May said.
KTVU did not immediately receive a response to our request from the A's for a comment on May's statements.  
The former Athletics pitcher was hanging up his spikes after 10 seasons in Major League Baseball. The Washington state native began his MLB career with the Minnesota Twins, spending six seasons there and played with the New York Mets for two seasons before coming to Oakland. 
SEE ALSO: Friends and family gather to celebrate life of A's, Giants pitcher Vida Blue
Last season, he had 21 saves for the A's with a 3.28 ERA, and he was 1-0 with nine saves and 0.00 ERA in his last 15 appearances. 
May said he planned to spend more time with his family and focus on other endeavors he's enjoyed, including his Trevor May Baseball YouTube Channel, and he said that he was happy about this decision to close this chapter of this baseball life.
"This has been a long time coming," May said, thanking all of those who supported him and was a part of this journey. "I got to live a dream. I lived a dream that I had when I was 12 years old for half of my life. That is insane. I lived the most incredible life, so far."