Sexy ads promote water saving with a wink in San Francisco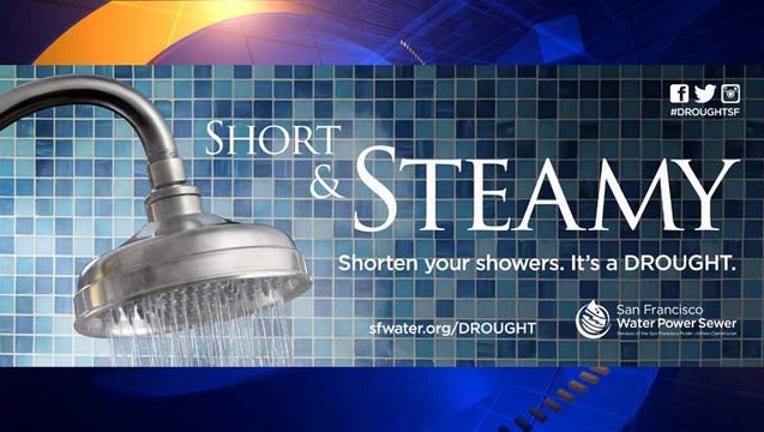 article
SAN FRANCISCO (AP) -- Too sexy for the drought?
No such thing, according to San Francisco Bay Area water officials who are rolling out a new line of racy public awareness ads coaxing an already water-thrifty metropolis to give it up just a bit more.
"Go full frontal" blares one ad featuring a photo of a front-loading washer -- sleek, steel and up to half as water-guzzling as a top-loading machine.
"Short and steamy," another ad urges about showers, a follow to last summer's request to "Make it a Quickie."
The San Francisco Public Utilities Commission intends to run the ads on billboards, buses, TV and social media. Meanwhile, officials in Southern California have gone with celebrity-heavy campaigns to urge water saving as the four-year drought drags on.
Mildly risque, the San Francisco-area ads are designed to catch the eye and lighten the mood, commission spokesman Tyrone Jue said Wednesday.
"It's a tongue-in-cheek play in what grabs people's attention. This topic" -- the drought -- "should be grabbing people's attention," Jue said.
Visits to the commission website surged by more than 400 percent when the slightly salacious approach debuted last summer. Inquiries about rebate programs for water-saving appliances also jumped.
Most importantly, the district's 2.6 million water users shot past the target of cutting use by 10 percent and conserved 12 percent, Jue said.
San Francisco and other communities in the region are already models when it comes to water conservation. State records show average use by San Francisco was just 44 gallons a day in April, compared to as much as 368 gallons a day in Palm Springs-area resort cities.
Gov. Jerry Brown in April ordered a cumulative statewide 25 percent cut in water use by cities and towns, starting this month, to get the state through its driest four-year period on record.
Cities that have been water gluttons have to save more than 30 percent. For water-virtuous San Francisco, the target is just 8 percent.
The city is just too dense and cramped for water-gulping lawns, and conservation has become another part of the social landscape -- like roommates and coffee french presses.
"It's one of those kinds of things that people should do anyway," Anthony Sarni, a risk analyst, said on a sidewalk near his office as rain drops beaded on his jacket during a summer storm.
Sarni described tense discussions around a toilet as he and his three housemates debated when and under what conditions to flush in a drought. There was also a group email over dishwashers versus washing by hand.
Sarni didn't mind being asked to cut water use even though San Francisco's supplies are in decent shape.
Major water reservoirs statewide are at just 42 percent of capacity while the Hetch-Hetchy Reservoir that supplies the city is 92 percent full. In addition, rainfall in the city stands at 75 percent of normal, compared to an average of 47 percent elsewhere in California.