San Francisco high schoolers create investment club
SAN FRANCISCO - Students at one San Francisco high school are taking a hands-on approach to learn about economics. The teens started and ran an investment club, and are now managing a portfolio worth more than $14,000.
The halls of San Francisco's Washington High School are filled with hustle and bustle, and while most students grapple with the ups and downs of teen life, a select few are also focused on the ups and downs of the stock market.
The George Washington High School Investment Club was the brainchild of high school senior Teo Manzo who took an early interest in investing and began laying the groundwork for the club during the depths of the pandemic. 
"So we started out on Zoom," said Manzo. "I'd say there were about 10 of us just talking about news in the market."
The group first started with virtual funds, practicing how to invest and learning valuable lessons about short turnarounds versus long-term investing. 
"Many people are now kind of treating the stock market as a virtual casino, where you put your money in and you gamble on a stock," said Manzo. "We wanted to come in, and day investing is a long-term tool for you to grow your money over the long term."
After that, it was time to graduate to the real world of finance, with a round of fundraising the group raised and now manages a fund valued at more than $14,000.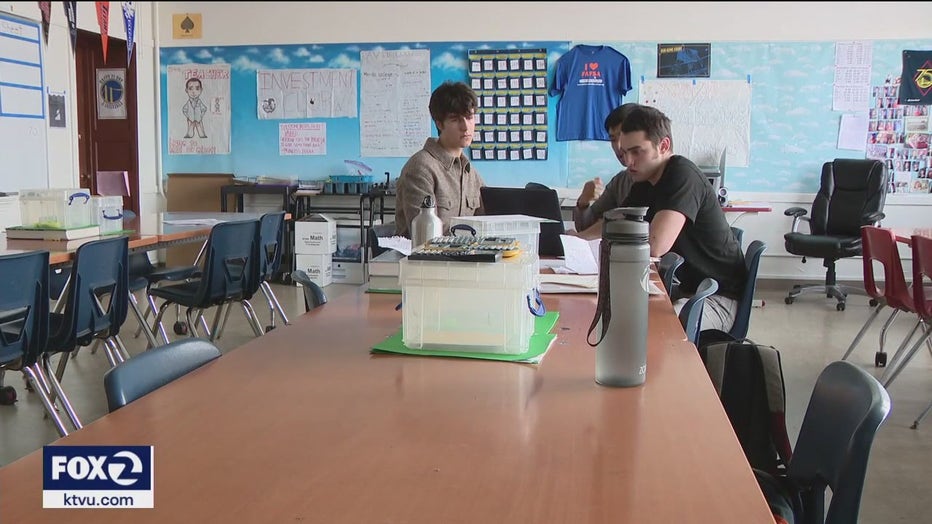 San Francisco high school students
"So we started Eagle Charitable Asset Management which is an endowment fund for our school," said Manzo.
The portfolio managers learn about asset management and the group uses the profits to pay for their club, and other clubs at the school, allowing other clubs to focus on things other than fundraising. 
"We thought 'hey, wouldn't it be great if we could both provide students with this work experience, but also provide money so these clubs could function how they want to do?'," said Matthew Joe from the George Washington High School Investment Club.
READ ALSO: Good news: Personal loan interest rates fall for 3-year fixed-rate loans
The aim of the club has always been to unlock the world of investing and finance to groups that may have low financial literacy. 
To that end, the group partnered with non-profit first-generation investors, making sure everyone has access to the tools to build wealth. 
"We teach a broad range of topics," said Sebastian Haas from the George Washington High School Investment Club. "FGI mainly focuses on like how to safely invest in the stock market, like how to safely manage your money. Stuff like that."
Lawrence Tak is the teacher who sponsored the club and helps guide their progress, he says what the students have accomplished so far to benefit their school is nothing short of impressive. 
The plan is to remain in contact with these graduating seniors to keep the club going for the next generation of students and investors. 
"Student-run organizations are pretty common in high school for clubs, but not outreaching and teaching and bringing awareness of a big thing, which is financial literacy and financial investing," said Tak.
The investment club is always looking for new investors. If you'd like to help out or learn more about how to create a similar club at a school near you, you can reach out to the investment club; we have a link under our links section on ktvu.com, or you can visit their webpage here.