SF hosts 2-day 'Bigfoot Bonanza': Do you believe?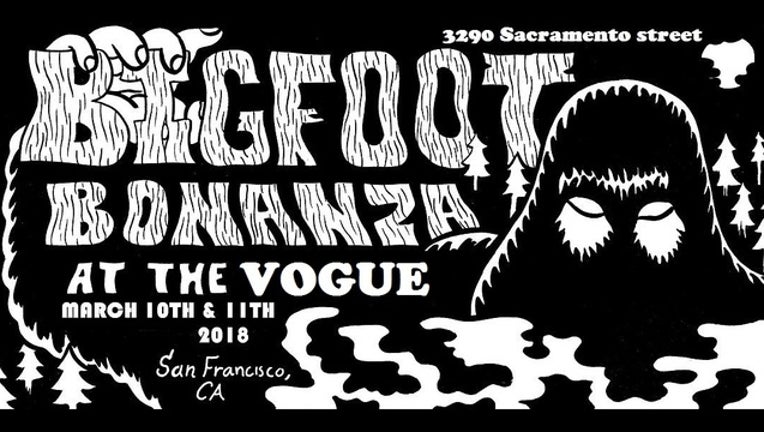 article
SAN FRANCISCO (KTVU) - Kai Wada Roath, hosts the Super Shangri-La Show, a monthly movie screening at the Balboa Theater in San Francisco's Outer Richmond. But this weekend he's taking the show on the road, although not that far, for the 'Bigfoot Bonanza'. 
The second-annual installment of the conference and film festival is at the historic Vogue Theatre in Presidio Heights, featuring 27 hours worth of "cult classic Bigfoot and Yeti flicks" along with documentaries and special guest speakers qualified to talk about the mysteriously evasive upright humanoid. 
"My passions have to do with folklore, monsters and ghosts," Roath, now an Alameda resident after living in San Francisco, says over the phone. He studied anthropology 25 years ago in San Luis Obispo and says he was fascinated by Bigfoot "hoaxers." 
"I fell in love with the whole folklore," he says. "Everyone has their own beliefs. Everyone has their own theories, all walks of life. They all share the same creature in their mind." 
The concept of Bigfoot may seem flimsy to skeptics, but Roath actually spent a month in Nepal to take on what he calls the spiritual world of Bigfoot. "I would say I am a believer." 
Some in the pseudoscience field of cryptozoology would say Sasquatch could be a dimension traveler, with the power to turn invisible, others say the creature is part of a hidden tribe. %INLINE%
Loren Coleman, an American cryptozoologist has written several books on the topic of Bigfoot and will be a presenter at the event during 'Sasquatch Saturday'. He shares the bill with filmmaker Seth Breedlove of Small Town Monsters and guest speaker Daniel Perez of The Bigfoot Times among others. %INLINE%
Sunday is themed 'Snowman Sunday' and features the 1955 film— Half Human: The Story of the Abominable Snowman as well as television's Ultraman - Phantom of the Snow Mountain from 1967 and even a 1965 Johnny Quest cartoon where the abominable one is surely encountered. 
Roath somewhat jealously talks about the sell-out crowds that can be found at Bigfoot conventions in the "middle of Ohio" and unfortunately says this will be the last time he'll be hosting the event. "My wife wants to murder me, but the show must go on." 
Don't worry about your appetite and sustaining the darkness of a theater for two-days on popcorn alone—it's been taken care of. There will be Japanese hot dogs and pop-up ramen vendors held separately on each day so they aren't competing with one another. Of course you can also find traditional fare at the concession stand. 
Whether or not you are a believer, this weekend's festivities will support independent theater and certainly does its part in helping keep San Francisco weird. 
The Bigfoot Bonanza will be held at the historic Vogue Theatre, located at 3290 Sacramento Street in San Francisco March 10 and 11. Tickets are $25 Sat, $20 Sunday or $40 for both days.