'Queerest Library Ever': San Francisco Public Library prepares for Pride month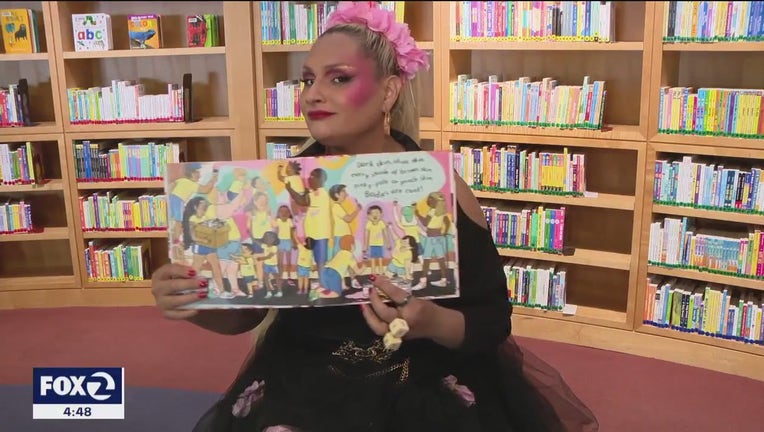 article
SAN FRANCISCO - San Francisco public libraries are celebrating Pride month, calling itself the "Queerest Library Ever."
Libraries are known for being quiet, but this month San Francisco's Public Library is living out loud, celebrating Pride month with a series of programs and exhibits. 
Librarian Cristina Mitra curates the Hormel LGBTQ Center in the main library, highlighting important works. She says libraries should reflect and serve their communities. So she says this month, Pride will be celebrated; with activities for the young and old. 
"You know, we're the public library," Mitra said. "Literally anybody could walk through these doors. There's no precursor that you have to identify this way, look this way, be this way, be of this age, have this nationality, etc. We are really looking at making a collection that is accessible to all."
For families, the library is kicking off a series of Pride celebrations and drag story hours. Per Sia is one of the drag performers preparing for a month of storytime reading. 
She says recent protests against drag performers reading to children have only redoubled her resolve. She says reading to the children isn't aimed at recruiting anyone, rather she says she is encouraging the kids to be their authentic selves, just as she is, no matter what others think. 
"You're seeing this figure, me, drag performer, just live their true authentic self right in front of you and by, like you said, by me being my true authentic self I allow others, or give others that space to do the same thing," Per Sia said.
For adults, the library that calls itself the "queerest library ever," will be holding screenings of LGBTQ films, talks, and is hosting art exhibits highlighting the city's LGBTQ story. 
Tanea Lunsford Lynx is one of the artists who contributed; telling her uncle Rodney's story, a story he could not. It's the story of a gay Black man, forced to live a split life, hiding parts of himself from some members of his own family. 
"He was born and raised here in San Francisco, he went to Balboa High School," Lynx said. "He was a straight-A student, he got really upset if he got anything less than an A."
READ MORE: 3 out of 4 Americans support LGBTQ ad campaigns, GLAAD survey finds
Lynx says she hopes sharing his story, will inspire others to look back, and live their own lives openly, honestly and with integrity. 
"When I think about Pride, I think so much about honoring our elders and honoring the folks who came before us," Lynx said. "But, also, fighting like hell for the young folks, so that they might be able to be elders too."
San Francisco Public Library will be hosting Pride events throughout the month. If you can't make it to the main library there will also be activities at branches throughout the city. 
A link to the Pride events can be visited here.