SFMTA to temporarily discontinue using light rail metro trains, replacing with buses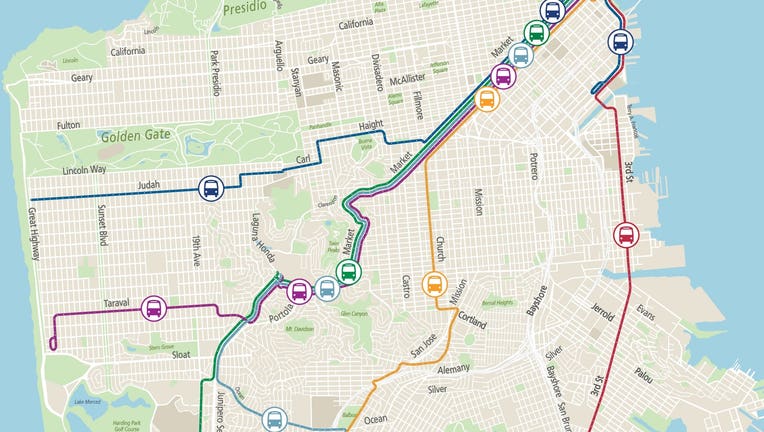 SAN FRANCISCO - The San Francisco Municipal Transportation Agency will make changes to its Muni Metro and light rail routes due to COVID-19 and the shelter in place order.
"So we have been looking at the ridership patterns, what are people using. Not as many people frankly are heading downtown because people a  lot of people are working from home these days," said Erica Kato, spokesperson for SFMTA.
Kato told KTVU on Thursday that effective Monday, March 30, operations will cease on the J, K, T, L, M, and N Muni Metro and light rail routes, though busses will be available to ferry passengers along those routes.
Underground stations in the downtown area of San Francisco will be closed and signage will alert riders to the change, following a revelation that an SFMTA employee contracted COVID19 and last worked on Tuesday, March 24, but Kato says both issues are unrelated.
"By shutting down the stations we're better able to protect our station agents so they don't have to have face-to-face interaction," she said.
SFMTA said it will use the time that Muni Metro and light rail is out of service to do maintenance work its tunnels and will also extra time to address repairs that need to be made on the vehicles.
The development comes just a day after the head of Transport Workers Union Local 250A, the union representing Muni operators, pushed SFMTA for more protection for drivers, which appears to have resulted in both sides coming to terms on some of the issues.
"I think the agency realized that yes operators were in fear of their lives, of their safety and so mandatory usage of the back door or encouragement of the usage of the back door as the primary source of entry is a must," said union president Roger Marenco.
The other issue sought to cap the number of passengers that ride in busses respective to their size to adhere to social distancing guidelines set forth by the city's public health department to prevent the spread of COVID-19.
Thirty-foot busses are limited to a maximum capacity of 15 people, while a total of 20 riders would be allowed on 40-foot busses and a 30 person limit on 60 foot busses.
Marenco said that more needs to be done.
"We did an experiment this morning and we realized that thirty people inside a sixty-foot coach is still too much," he said. 
Marenco said no headway was made in a request to suspend fare collection as similar to what other transit agencies in the Bay Area have done in response to the shelter in place order, though he's encouraging riders to pay via a mobile phone app, Clipper card or passport.