Sneaker wave and falling redwood tree nearly takes out Sonoma family of 3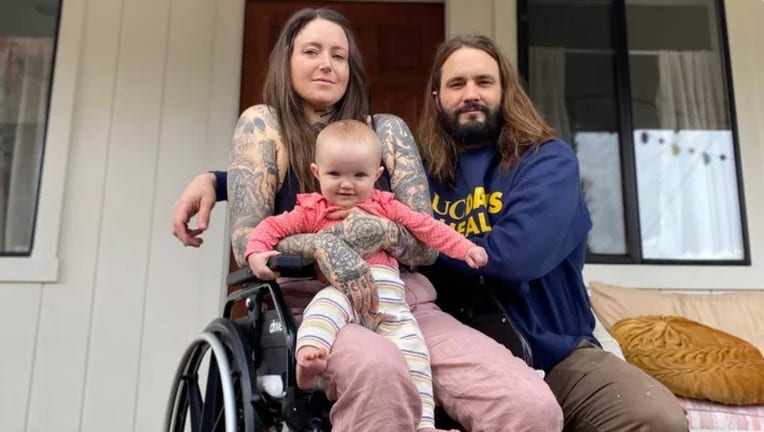 article
WHITEHORN, Calif. - A Sonoma family survived a frightening encounter with mother nature a few weeks ago, and they are still working through the damages.
A massive sneaker wave and subsequent falling redwood tree nearly crushed them as they walked along Black Sands Beach in Humboldt County's Lost Coast Dec. 27, according to the Press Democrat.
Jessica Marioni was carrying 8-month-old Maria with her husband, Dan, as they walked along the beach during a break between storms, when the nightmare unfolded. 
"We were keeping our distance from the shore break," Marioni wrote in a GoFundMe. "I heard a roar and looked over to see a wall of water coming toward us. The 'sneaker wave' launched a 15-foot beached redwood tree directly at us."
She said the tree smashed into her husband then rolled over her and the baby.
"As it rolled over us I heard bones crushing," Marioni wrote. "The wave washed out the entire beach and pushed us into a freshwater stream."
2 men die in Sonoma County while using gas generator during storms
She said she wasn't able to move so her husband pulled her and the baby out of the water. She thought their baby was crushed to death but she "miraculously let out a cry and was unscathed."
Marioni said the Coast Guard flew her to St. Joseph's Hospital in Eureka, where they found multiple fractures to her pelvis. She was transferred to UC Davis Medical Center where she was in the ICU for 6 days and underwent a14-hour surgery to rebuild her shattered pelvis with multiple plates and screws.
"On top of everything, babies are not allowed in the ICU," Marioni wrote. "I wasn't allowed to see my baby."
Body of missing fisherman found in San Pablo Bay
She said a few amazing nurses pulled some levers to help her escape the ICU for an hour to see her on her birthday. 
"It's a miracle that we're alive and that I'll be able to walk, but I have to learn all over again," said Marioni.
A GoFundMe was set up to help with costs incurred in the hospital as well as rehabilitation.