Somerville: 2 'young heroes' help 3 ladies with car trouble in Castro Valley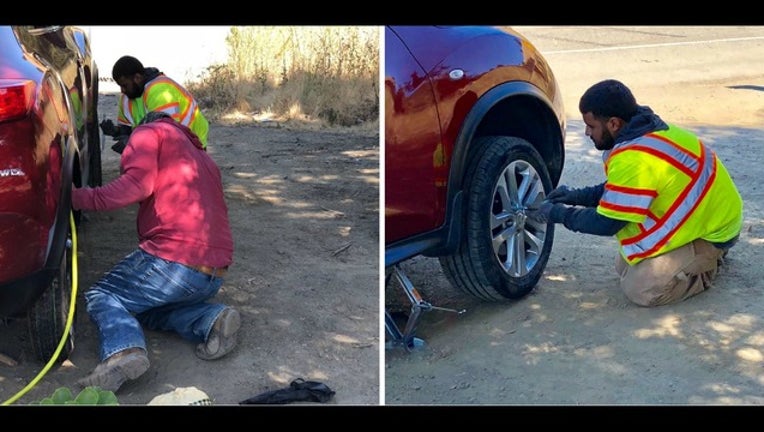 CASTRO VALLEY, Calif. (KTVU) - Lisa Mullen sent me this.
It's a beautiful story.
She wrote:
I have been upset and dealing with grief lately after recently losing my cousin unexpectedly in an electrical accident.
But then this happened the other day in Castro Valley and it helped me tremendously to know that there are kind, helpful people in our world.
Yesterday while driving two friends to Mill Valley I ran over something in the road while changing lanes. 
We all heard a very loud boom and all said at once:  What was that?
We luckily got off the freeway between trucks right away. After pulling over in a large dirt area we discovered we had a front tire blowout.
So before I could even call Triple A a young man in a Tennyson Electric, Livermore truck stopped and came to check on us.
He immediately said he could put the spare on for us. 
Not only that though, he said the spare needed to be in the back.
So he put the good tire in the front and the spare in the back. Doubling the work!
Then he made a phone call to a co-worker who then came in another truck with an air compressor. 
He explained that the spare tire needed air.
These two young men went out of their way to help us and made sure that we could safely get on our way.
A tow truck driver stopped to check on us also and gave us directions to the nearest tire store.
Our two young heroes also would not take any money for their time and work!
We were truly so thankful for their help! So today I called and talked to their boss.
Turns out that they try to run their company by encouraging their employees to help people out whenever they can.
What a fantastic business philosophy!
He said they would be rewarded and nominated for employees of the month.
There really are good people out there in our world willing to help three ladies stuck on the side of the road! 
So thankful for our helpful angels.
—Lisa Mullen
I love stories like this.
To be blunt they reinforce my faith in humanity.
They reinforce my belief that most people in this world are good.
#RealPeopleRealStoriesRealLife