Sportscaster Dick Enberg found dead at home at age 82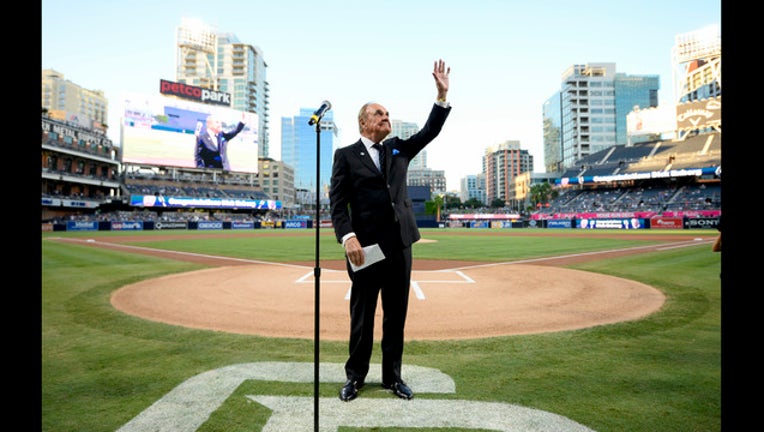 article
SAN DIEGO (AP) - Dick Enberg, the longtime sportscaster who got his big break with UCLA basketball and went on to call Super Bowls, Olympics, Final Fours and Angels and Padres baseball games, died Thursday. He was 82.
Engberg's daughter, Nicole, confirmed the death to The Associated Press. She said the family became concerned when he didn't arrive on his flight to Boston on Thursday, and that he was found dead at his home in La Jolla, a San Diego neighborhood, with his bags packed.
"He was dressed with his bags packed at the door," wife Barbara told the Union-Tribune. "We think it was a heart attack."
Enberg retired in October 2016 after a 60-year career -- and countless calls of "Oh my!" in describing a play that nearly defied description. He also was well-known for his baseball catchphrase of "Touch `em all" for home runs.
Raised in Armada, Michigan, Enberg's first radio job was actually as a radio station custodian in Mount Pleasant, Michigan, when he was a junior at Central Michigan. He made $1 an hour. The owner also gave him weekend sports and disc jockey gigs, also at $1 an hour. From there he began doing high school and college football games. 
During his nine years broadcasting UCLA basketball, the Bruins won eight NCAA titles. Enberg broadcast nine no-hitters, including two by San Francisco's Tim Lincecum against the Padres in 2013 and 2014.
He said the most historically important event he covered was "The Game of the Century," Houston's victory over UCLA in 1968 that snapped the Bruins' 47-game winning streak.
"That was the platform from which college basketball's popularity was sent into the stratosphere," Enberg said. "The `79 game, the Magic-Bird game, everyone wants to credit that as the greatest game of all time  That was just the booster rocket that sent it even higher. ... UCLA, unbeaten; Houston, unbeaten. And then the thing that had to happen, and Coach Wooden hated when I said this, but UCLA had to lose. That became a monumental event."
Enberg's many former broadcast partners included Merlin Olsen, Al McGuire, Billy Packer, Don Drysdale and Tony Gwynn. He even worked a few games with Wooden, whom he called "The greatest man I've ever known other than my own father." Enberg called Padres games for seven seasons and went into the broadcasters' wing of the Hall of Fame in 2015.
John Ireland, the radio voice of the Los Angeles Lakers, tweeted that "If there was a Mount Rushmore of LA Sports Announcers, Dick Enberg is on it with Chick Hearn, Vin Scully and Bob Miller. Rams, Angels, UCLA, NBC, and so much more. Was the first famous announcer I ever met, and he couldn't have been nicer. Definition of a gentleman."
Enberg won 13 Sports Emmy Awards and a Lifetime Achievement Emmy. He received a star on the Hollywood Walk of Fame, and UCLA named its Media Center in Pauley Pavilion after Enberg this year.
"Kindest, most proactive possible treatment of newcomers in this business, for the length of his career," broadcaster Keith Olbermann said of Enberg on Twitter. "What a terrible loss."