State lawmakers reject construction bill trigger by fatal Berkeley collapse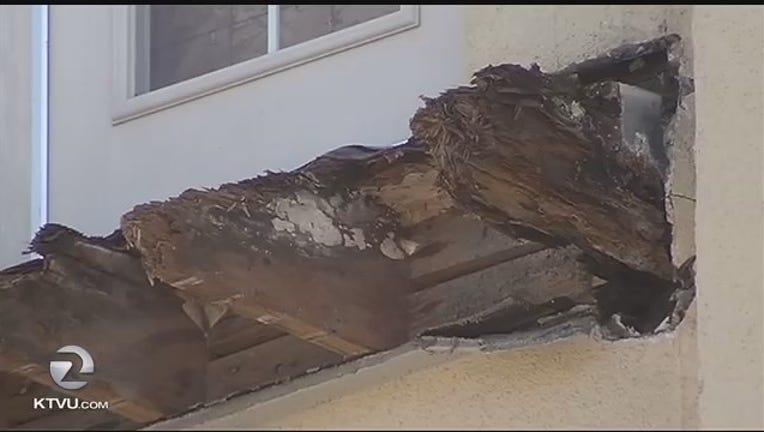 article
SACRAMENTO, Calif. (KTVU and wires) --  An Assembly committee voted down proposed state legislation Tuesday that was drafted in response to a balcony collapse that killed six people in Berkeley last month.
The proposed legislation by state Sens. Jerry Hill, D-San Mateo, and Loni Hancock, D-Berkeley, would require contractors to publicly disclose civil settlements worth $50,000 or more, or binding arbitration worth $25,000 or more.
It was drafted in response to the disclosure that the company that built the Berkeley balcony, Segue Construction, had paid over $26 million in settlements, many related to balcony construction, Hancock said.
The company's balcony at the Liberty Gardens apartment complex at 2020 Kittredge St. collapsed during a birthday party early on the morning of June 16. Six people, including five Irish students visiting from abroad, were killed and seven others were injured.
A city investigation revealed that water intrusion and dry rot was the likely cause of the collapse. The city will consider a proposal this evening to amend the building code with new requirements for balcony construction.
But Hill and Hancock sought to provide the California State License Board with information about settlements to determine if contractors had a history of faulty construction.
"I think it's the least we can do," Hancock said at Tuesday's Assembly Business and Professions Committee hearing. "We do require other professionals to report these kinds of settlements," such as doctors and engineers, but not building contractors.
But Nick Cammarota, an attorney for the California Building Industry Association, questioned whether disclosing settlements would be a good indication of whether a contractor had in fact engaged in poor workmanship.
Settlements can in fact just be an indication of the cost to litigate a claim. With the numerous contractors and subcontractors that are typically involved in home construction, finding fault can be difficult without tearing the house down, Cammarota argued.
A company settling a claim is not an indication of fault either legally or realistically, he said.
Ultimately the committee agreed that further information is needed to determine just what information would be useful for licensing, and sought to consult further with the state license board on the matter.
The state license board did not take a position on the bill at Tuesday's committee meeting and is scheduled to meet later this month to further discuss the matter.