Stockton bank robbery suspect faces death sentence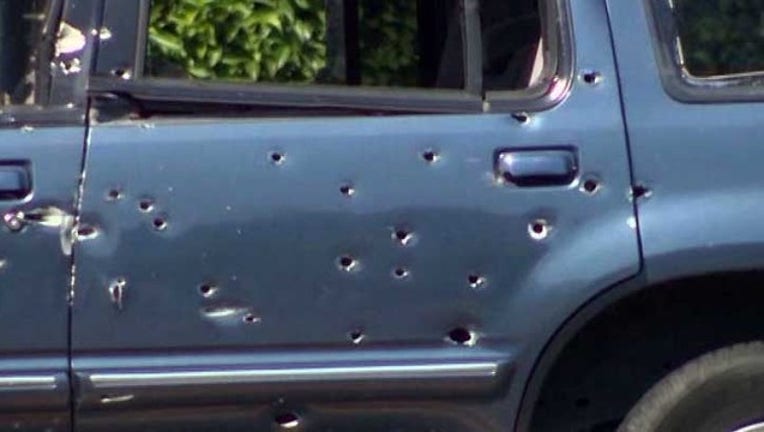 article
 STOCKTON, Calif. (AP) -- Prosecutors will seek a death sentence against a man charged with killing a bank-robbery hostage that he used as a human shield in a shootout with police, officials said Monday.
 Jaime Ramos is charged with killing bank customer Misty Holt-Singh, 41, and two other men, who are suspected in the armed robbery that started an hour-long running gun battle with Stockton police.
 Police say the three armed men robbed the Bank of the West branch on July 16, taking two bank employees and a customer as hostages. The robbers fled with the hostages in an SUV owned by one of the employees, police say.
 A second man, Pablo Ruvalcaba, faces a life prison sentence for his role, said San Joaquin County Deputy District Attorney Robert Himelblau following a court hearing for both men. Ruvalcaba is suspected of driving the suspected robbers to the bank. Himelblau declined to comment on the case.
 Both Ramos, 20, and Ruvalcaba, 21, have each been charged with three counts of murder in addition to robbery, kidnapping, carjacking and gang counts. California law allows murder charges to be filed against anyone involved in a crime in which someone is killed.
 The two are also charged with 35 counts of attempted murder for each of the officers involved in the shootout. 
 Authorities say Ramos used Holt-Singh, a customer at the bank, to shield himself from a spray of bullets fired by police. Holt-Singh had a husband and two teenage children. 
 The two employees were injured, but they survived after being thrown or jumping out of the moving vehicle. The two dead suspects have been identified as Alex Gregory Martinez, 27, and Gilbert Renteria Jr., 30.
 The attorney for Ramos could not be immediately reached for comment. Attorney Jeffrey Hirschfield, who represents Ruvalcaba, declined to comment. The trail for both men is expected to begin early next year.