Students with special needs allege being physically restrained at Concord school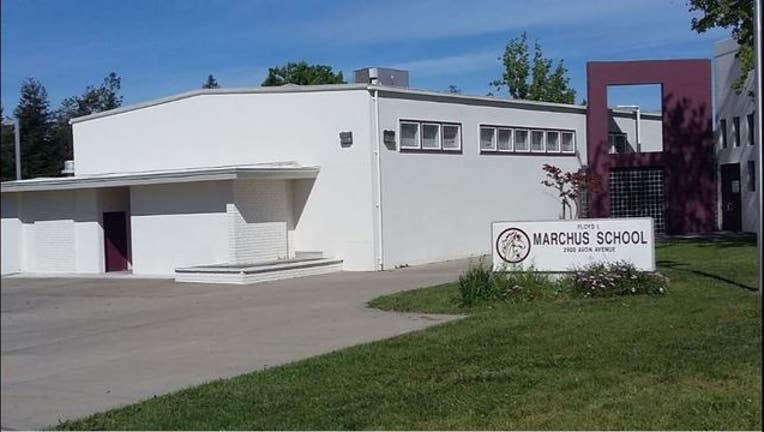 CONCORD, Calif. (KTVU) - Four disabled elementary school students are suing a school in Concord, alleging that staff members have thrown one of them against the wall and forced to write a sentence on the board 100 times, while another was pressed to the ground in a "floor restraint" – all of which are not only counterproductive but go against California's education code.
But the Contra Costa County Office of Education countered that the reason that their staff might need to physically restrain the students is because they might be injuring themselves or others, and that the teachers are trained in specialized, non-harmful techniques allowed under California state law. 
"It's really disheartening that we're getting a complaint like this," said Terry Kohene, spokesman for the office of education. "We need to look into it and dissect it a bit more. But we know that Marchus provides students with severe needs the best chance at success in a caring environment." 
The class action suit, filed Monday in Contra Costa County Superior Court, was filed on behalf of Kerri K. and Jacob K., Annie T. and Sara S. --- all of whom but the latter attend the Floyd L. Marchus Counseling and Education Program. The students, and their guardians, are being represented pro bono by Mark Rosembaum in Los Angeles and the Disability Rights Education and Defense Fund in Berkeley. 
A spokesperson for the attorneys said this is the first class action brought in California state court challenging the use of restraints and seclusion under California constitutional and statutory law.
The students and their families are suing the school, located at 2900 Avon Ave., along with the California State Board of Education, the Contra Costa County Office of Education and specific individuals, alleging battery, negligence of supervision, emotional distress and violations of the Unruh Civil Rights Act. 
Floyd L. Marchus provides special education services and counseling for K-12 students who have "significant emotional and behavioral needs." Students are referred to this program from the 16 school districts in the county. Currently, there about 85 students in the school. 
"My daughter was picked up and thrown against a wall with her legs pulled apart and her head bent towards the floor for throwing a half-empty water bottle in the general direction of a Marchus staff member," Elyse K., a parent of two of the student plaintiffs, said in a statement.
Her daughter, Kerri K., the complaint alleges, was "thrown against the wall" after she threw a half-empty water bottle at a Marchus staff member's general direction. Marchus's staff continued the "restraint," even though Kerri K. repeatedly exclaimed that she was in pain and could not breathe.  A spokeswoman later clarified to KTVU that the "restraint" was the staff member's hands.
In a statement, her mother added: "This reality is not only horrifying, but unmistakably present and heartbreakingly real at Marchus. There are so many parents who do not even know that schools like Marchus are still using what is essentially corporal punishment. I plead for all parents to think about their children and demand more from our state to end this abuse now."
The spokesperson for the attorneys acknowledged to KTVU on Wednesday that none of the students or parents had ever called police or filed a criminal complaint regarding these physical restraints before. Koehne added that police are regularly called to the campus to respond to 5150 reports, referring to the California code for an involuntary psychiatric commitments, when staff determines they need extra help. 
Two other anecdotes alleged in the lawsuit include: 
• Annie T. was sent to the support room for two hours for "disrupting the class," being "disrespectful" and "non-compliant," and for going "out of area." Once in the support room, she was required to write "I will follow directions" 100 times. The suit says that repetitive writing tasks are a common punishment for Annie T., even though she has dysgraphia and therefore such tasks can take her hours to complete.
 • Sara S. was restrained by five adults in a "floor restraint," with two adults holding each leg. Despite several team members determining that the type of hold was problematic and that Sara S. could be released, one staff member refused, increasing pressure on her and ignoring both Sara S.'s exclamations of "your [sic] hurting me!" and the principal's instruction to release her. The principal was so disturbed by these events that he experienced a panic attack and 911 was called.
Koehne, the spokesman for the office, said he could not talk about the specifics of the lawsuit, which he believed is the first to accuse the school of such allegations.
But in general, he said that staff members at Marchus do sometimes put their hands on students, but that is to prevent harm, such as if a student is throwing things or acting overly aggressive. The staff go through specialized training at the Crisis Prevention Institute and lthey earn the techniques and can, and cannot, use on students. He added that none of the staff use any type of "prone restraint" strategies, meaning that students are not held down on the floor. 
"The staff is taught de-escalation skills and specifics around the types of restraints that can be used on students," Koehne said. "We are well aware of the laws." 
The suit's summary of complaints also allege that the school never completed academic or behavioral assessments of the students, and therefore, the disciplinary measures, such as taking them to special support rooms, or holding them down physically are not effective teaching methods. The suit also alleges that the students are far behind their grade level and do not receive individualized interventions. 
Koehne countered that the school "absolutely provides assessments" and follows Individualized Educational Programs, as mandated by the state. He said the school has "support" rooms where students go to calm down, and are always supervised by staff members.
Aside from individual complaints, the plaintiffs are alleging that Marchus has failed to report, or has inaccurately reported, many incidents involving the use of behavioral interventions, as well as the nature of the interventions, "hiding the unlawful and unconscionable nature of these practices and depriving parents of the timely notice needed to promptly respond to and challenge these practices." 
And the students and their families are asking the court to hold the defendants accountable and to ensure that the students receive the "education to which they are entitled."