Taylor Swift announces October release of '1989 (Taylor's Version)'
Taylor Swift closed the 2023 U.S. leg of her landmark Eras Tour at the Los Angeles SoFi Stadium in a big way by announcing the fourth edition of her re-recording project: "1989 (Taylor's Version.)"
After playing a few tracks from her "1989" era live, the pop star approached the center of the stage with an acoustic guitar in hand and suggested to the audience that she'd been working on something big.
READ MORE: The Eras Tour: Taylor Swift adds 15 additional shows in 2024
"Instead of telling you about it, we'll just show you," she told the crowd as the screen illuminated behind her. "1989 (Taylor's Version) available October 27th!" she cheered.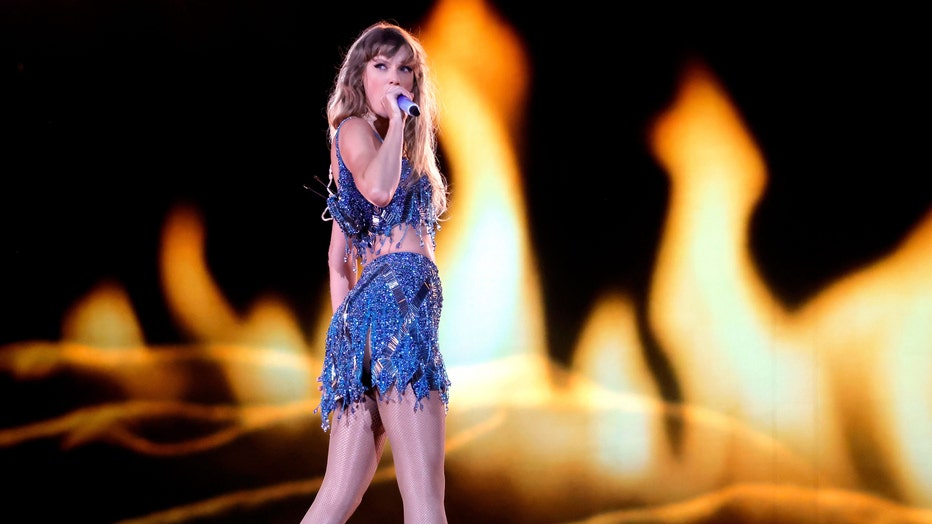 Taylor Swift performs onstage during "Taylor Swift | The Eras Tour" at SoFi Stadium on August 09, 2023 in Inglewood, California. (Photo by Kevin Winter/TAS23/Getty Images for TAS Rights Management)
Across three-and-a-half hours, the pop superstar offered fans a bevy of career-spanning hits that was less of a greatest hits collection, and more of a live celebration of an artist in her veterancy.
Throughout the dozen tracks, it was as if the ground shook with the rapturous sound of 70,000 fans scream-singing along to a popstar's deep cuts. This is Taylor Swift's house — filled with fans in light Taylor Swift cosplay (pink dresses for her 2019 album "Lover," black leather and snakeskin prints for 2017's "Reputation," sequins and A-line skirts for 2014's "1989," and so on.)
READ MORE: Taylor Swift officially has more No. 1 albums than any woman in history
In a summer stacked with superstar tours celebrating giant new releases — like the larger-than-life experiences of Beyoncé's Renaissance World Tour and Drake's 56-date "It Was All a Blur" tour — Taylor Swift's Eras Tour stands proudly among them.