Teen killed in suspected drunk driving crash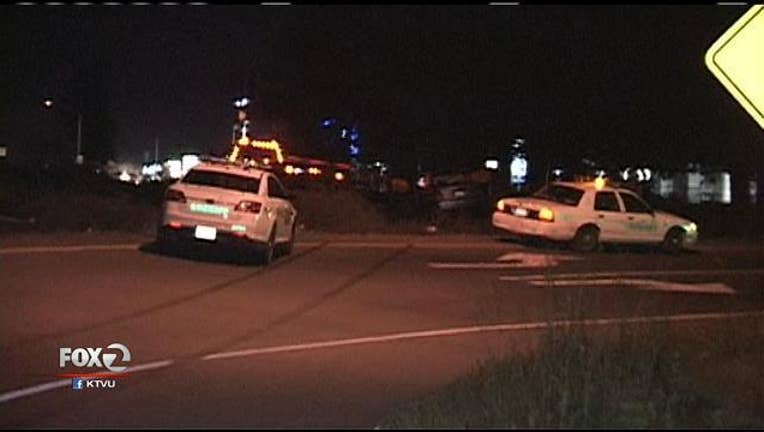 article
It happened just before 2 am Saturday, along Highway 101 southbound in Santa Rosa.
The driver was surprisingly young, just 17-years-old, and her two passengers, both injured, are teenagers as well.
"The driver died at the scene, she was still in the car," CHP Sgt. Brent Townsend told KTVU, describing how first responders found the Toyota compact car, slammed against bushes alongside the freeway.
The fleeing driver lost control on the Hearn Avenue exit, with a sheriff's cruiser on her tail.
"They were aware that a deputy was behind them with his lights on," said Sgt. Townsend, "so I'm going to assume they were trying to take the exit so fast, to avoid being stopped."
The pursuit began about twelve miles north, when the deputy spotted the car speeding on 101 near Windsor.
He tried to pull it over, but it took off, weaving and hitting speeds exceeding one hundred miles an hour. A second sheriff's cruiser joined the chase in Santa Rosa.
"There's nothing routine or predictable about any pursuit that has ever occurred, " CHP Officer Marcus Hawkins told KTVU. "From the get-go, these people were trying to evade law enforcement. If they had yielded and stopped, this girl would be alive."
The Highway Patrol was not notified or involved in the pursuit, but is conducting the crash investigation.
It has found the young driver was unlicensed, with an open beer at her feet.
Other open containers were in the car too, and her passengers admitted they had been drinking also.
That's apparently why they took off, trying to outrun flashing red lights.
Neither the driver or her friend alongside her wore seat belts. That passenger, another seventeen year old girl, was ejected though the windshield and suffered cuts and a broken arm. A young man in the back seat was belted in, and sustained a neck fracture, but is expected to recover.
"You have two seventeen year old girls, and a nineteen year old male, " noted Officer Hawkins, "very young people, very inexperienced drivers."