Tenant advocates challenge condo conversion following eviction of 100-year-old woman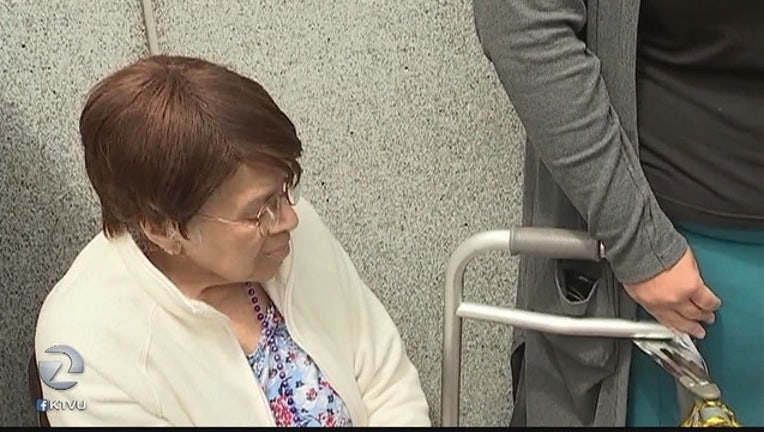 article
SAN FRANCISCO (BCN) San Francisco tenant advocates are challenging a move to convert a 
Western Addition apartment building to condominiums after a lengthy legal battle led to the eviction of a 100-year-old woman last year.
The Planning Commission is scheduled to vote Thursday on a request to convert the six-unit building at 668-678 Page St. to condominiums.
A planning staff report prepared for the conversion indicates that the property meets all legal requirements for the conversion, including a lack of tenant evictions within the last five years and notification of all tenants of their right to first refusal to purchase the unit.
However, the report does not mention that one unit in the building, which had been occupied by Iris Canada since 1962, was the subject of a lengthy legal battle that ended just last year with her being forced out shortly before her death in March at the age of 100. Canada's unit is listed 
as having been "vacant" between 2012 and 2017 on the application, and occupied by property owners Peter Owens and Carolyn Radisch since February of last year.
Groups including the Housing Rights Committee and Senior Disability Action are now challenging the building's condominium conversion and asking the planning commission to take a closer look at the application.
"We feel there are important issues to be discussed regarding this conversion, such as the eviction of 100-year-old Iris Canada, who lived in apartment 2 and died shortly after her eviction," Tommi Avicolli Mecca, an organizer with the Housing Rights Committee, wrote in a letter to the  commission.
The fight over Canada's right to remain in the unit was more legally complicated than most evictions, but it drew widespread media attention because the frail elderly woman became a symbol for many of African-American displacement from the city's Western Addition neighborhood.
Property owners Owens, Radisch and Stephen Owens bought the building and used the Ellis Act to evict most tenants, but in 2005 Canada, with the help of an attorney, was able to negotiate a lifetime estate allowing her to remain.
That legal claim in turn allowed Canada to block the building's conversion to condominiums.
In 2014, the property owners moved to terminate her lifetime estate, alleging that Canada, who suffered from health problems, had effectively been living with family members in Oakland and allowed the unit to fall into disrepair.
In court, attorneys for the property owners made it clear that they would be willing to have Canada remain if she signed the condo conversion paperwork. Canada's family members alleged she had been harassed by the property owners and other building occupants for her refusal.
A judge ruled in the property owners' favor in April 2017, terminating her lifetime estate and finding that Canada could only stay in the unit if she accepted strict limits on her occupancy and paid their 
attorneys' fees, which totaled more than $150,000.
Canada could not pay those fees, and the Sheriff's Office ultimately moved in and changed the locks in February.
The Planning Commission is scheduled to meet at 1 p.m. at City Hall.