That Kid's Got Game: Teen golfer banks ball 15 times for successful backyard trick shot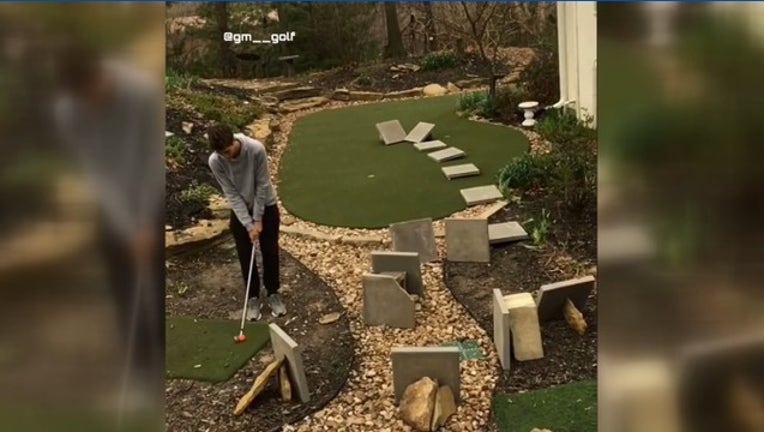 article
(KTVU) - Golf is a game of pars and putts and often boring TV. But do not blink for a second when watching Garrett Clark's trick shot videos. 
The 18-year-old from Kansas City is an absolute prodigy with a wedge. He's brought a putting green installed in his backyard to unthinkable heights by posting Instagram videos of insane golf shots. For his skill, and engineering, Garrett Clark is this week's talent on That Kid's Got Game.
Garrett once posted a video of a golf ball he chipped straight into a concrete slab before it bounced 14 more times on its way to the hole. Concrete slabs. We're not talking about the average carpeted putting green at your local mini golf course. The videos on his Instagram account that users see are not the results of a simple idea, but rather a demonstration of careful production and relentless perseverance.
Having a consistent swing helps, too. 
"This trick shot process we go through, all it is repetition, if you have a consistent chipping stroke, you can get it to where the ball goes in the same spot roughly every time," Clark said in a video posted to YouTube.
Mobile users watch Clark's TKGG debut here
His favorite shot is one where he banks it off a couple slabs before the golf ball elevates and lands perfectly in the cup. It's insane. His back is turned to the action in a highly confident display of swag. Basically it's a slam dunk after weathering a pin-ball gauntlet. 
But it's the internet where he displays his work, and haters are abundant in that territory. However, in all fairness, it's tough to not question the integrity of Clark's shots—they're impressive to a puzzling degree. 
In response to those challenging Garrett's honesty, he created a YouTube video that broke down a controversial shot. And while he said he normally "doesn't acknowledge the haters," this time he wanted to prove them wrong with a live display of his craft. Then he offered his take on the negativity.  
"My theory on why people actually call trick shots fake: They see something so cool that they're like, 'That's impossible,'" Clark said in the video. "Or they're jealous and they're like, 'that's fake because I can't do that."
*****
That Kid's Got Game was created as a fun way to display kids with standout sports skills. If you have game, or you want know someone with game, we want to see it. Visit here for information on how to submit.