That Kid's Got Game: Two-year-old East Bay slugger 'bored' hitting balls off the tee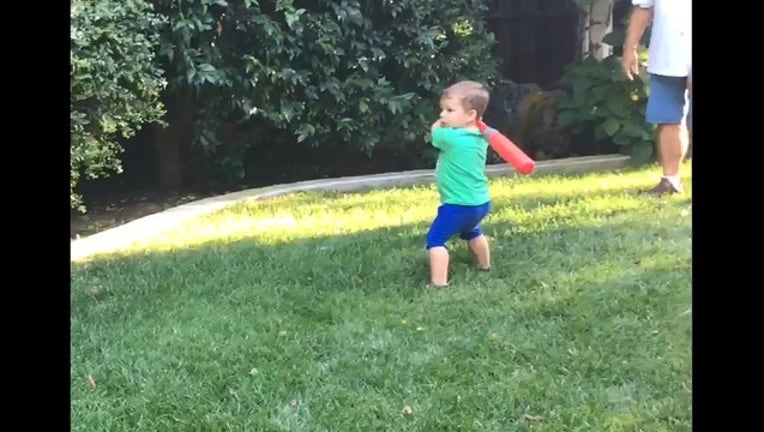 OAKLAND, Calif. (KTVU) - Graham Rioux is a slugger. The two-year-old was "bored" hitting baseballs off the tee, so his parents starting pitching to him.
And his advanced skill set opened the door to witnessing an incredibly impressive swing. The boy from the Brentwood absolutely rips it. And further cementing his place on That Kid's Got Game is his batting stance, which already has a particular swagger about it.
Rebecca Rioux, Graham's mother, says he started hitting off the tee when he was around 14 months old. Less than a year later and he's swinging the bat like he's ready to bypass tee-ball. 
"He plays everyday, even beginning as early as 6:30 a.m. at wake up," Rioux said. "And we usually have to drag him away to rest."
He's got this bounce about him when he gets in his stance, suggesting he's comfortable at the plate. As he digs in and gets his footing properly placed, Graham even has a brief Barry Bonds-like bat whip he displays before his solid mechanics yield a nice pop.
"He's already lost many balls into our neighbor's yard," said Rioux.
Mobile users watch Graham's swing here
Graham's dad and grandpa have helped with some of his mechanics, but some was learned through observation in a household that has sports on often. Like tapping his batt before going into his stance, that's something he wasn't taught. 
And just listening to Graham hit balls in his grandparent's backyard you can tell he's making solid contact. Or as someone in the background puts it, he hits it "on the meat" of the bat. 
On the other side of the ball, Graham is already getting comfortable, too. His mom says he's catching pop flies, taking grounders and is throwing the ball well.
"He wants to go, go, go even when other kids get tired of it," Rioux said. "We hope that he just continue to love being active, even if that means we have our hands full." 
*****
If you have game, or you know someone with game, we want to see. Visit here for more on how to submit.