The View from the Broadcast Tent: Lions, Dragons, and…a Stripper?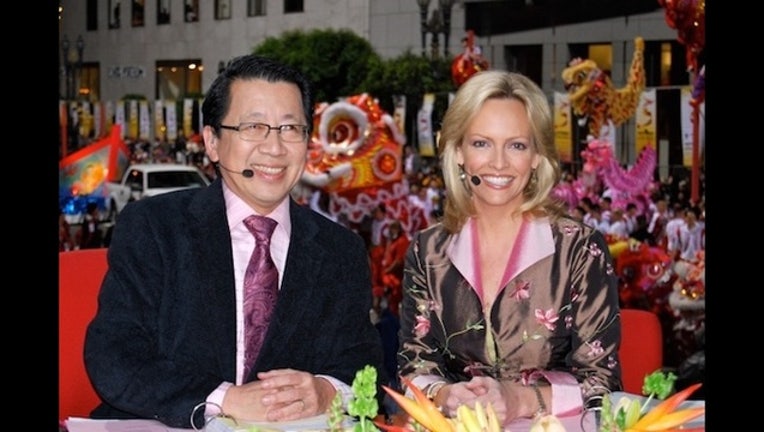 article
By Ben Fong-Torres, Special to KTVU - An "R" rating for the Chinese New Year Parade broadcast? That's what raced through my mind when we saw the topless dancer on the Forbidden City float.
She was partly hidden by fellow dancers holding feathered fans, and she showed no more than, say, Janet Jackson at halftime.
Still, it was the Chinese New Year Parade, a beloved tradition and the most-watched parade on the West Coast, next to the Rose Parade. Performers, whether on floats or on the streets, aren't supposed to show up naked. But surprises are part of the deal, and one of the reasons I look forward to it every year.
This is my 20th year describing the parade. I've had three co-hosts, three Emmys (all with Julie Haener, who's been co-anchor since 2001), four directors (including Jim Haman, now the broadcast's executive producer and producer), at least a half-dozen writers, and more rain, politicians and firecrackers than anyone can count.
It all began with a phone call in 1996. KTVU was making a change with the parade broadcast, which, for years, had been hosted by Steve McPartlin and an Asian American female, often a former Miss Chinatown. Rosy Chu, then the station's public affairs director, suggested me, and I was soon paired with Elaine Corral, co-anchor of the evening news.
Just before our debut, in February 1997, Corral, the seasoned anchor, told me: "This is not going to be fun. To the audience, it may look like it, but we're going to be working."
She wasn't lying. Just before we went on, our monitors went on the fritz. Because our backs are to the parade, they're our only way to see what's going on. They were fixed nine minutes before we hit the air. Moments later, I would learn a truth about parade commentating: The script is no match for reality. Participants show up out of order, or not at all. They overstay their welcome in front of the cameras. Bands don't play when they're supposed to. As we fall behind schedule, the producer (Haman, the voice in our headsets), sometimes using colorful language, cuts contingents from the broadcast. Just as we're about to read something, one of the two production assistants who flank us rips the page out of our binders and hands us something else. Read, already! And sound relaxed and happy.
Through the years, with Corral, Thuy Vu (1999 and 2000), and, finally Haener, we've managed to do just that. Up there in that cramped tent, with chaos all around us, set to a soundtrack of firecracker explosions, and, sometimes, lashed by rain and winds, we weather the zigs and zags that come with a live, two-hour broadcast of a parade involving 130 units. And we sound like nothing is wrong at all. Viewers will say, "You guys sounded like you were having fun." That, as Jon Lovitz used to say on Saturday Night Live, in his guise as The Master Thespian, "is ACTING!"  
From my notes over the years, here are some low- and highlights.
1999: Thuy Vu and I make up an all-Asian anchor team. Nice. I celebrate by videotaping a performance of Elvis Presley's "Treat Me Nice," with customized lyrics ("But if you don't behave, I'll sic Thuy Vu on you"). She is deeply moved.
2001: Haener makes her debut and is welcomed by the topless dancer. She was on a mammoth float paying tribute to the Forbidden City, the World War II-era nightclub that featured all Asian American entertainers. A star strip-teaser was known as "the Bubble Girl."
Atop the float, members of Reincarnation, a local swing dance club, do the jitterbug while young women in Chinese gowns re-enact a stage show. And that's where the Bubble Girl pops out. "Oh, my," Julie exclaims. "Good thing it's a warm night!" Warm? It was hot!
2002: Our broadcast tent is in Union Square, which, this past year, has been going through a major renovation. The parade route had to be altered. The result: numerous mix-ups, jams and delays. The Stanford Marching Band showed up so late they wound up following the grand finale, the golden dragon, and missed the broadcast. But it was the first time I'd ever seen the great dragon being chased by a tree.
We faced one crisis after another. In this, the year of the horse, it was wild horses all the way. But, once again, it came out looking smooth, thanks to Julie. Whenever I ran out of words, she'd step in, cheerfully describing the weather, the scenery, the families in the bleachers, until we got back on track.
Each year, I compile a stack of index cards loaded with facts and trivia about Chinese New Year, rituals, and animal signs (did you know that both George W. Bush and Bill Clinton are dogs? Well, we knew one of them was!). Whenever I sensed a lag coming on, I'd pore over the cards and have some ready for Julie or me to use. By night's end, we'd played all the cards.
For all that, it was a blast. Besides all my childhood favorites, like the St. Mary's Chinese Girls Drum and Bell Corps, and its drill team, there was Martin Yan cruising by in a convertible, talking through his own sound system to the cheering crowd. He spotted me and started shouting, "Ben! Ben!" as if I were a rare and prized ingredient.
2004: Smooth sailing in beautiful weather as we bring in the year of the monkey. I enjoyed seeing evidence of the continuing rise of Asian women to political power in San Francisco, including Supervisor Fiona Ma, Assessor Mabel Teng, District Attorney Kamala Harris, and Acting Police Chief Heather Fong.
2006: After this one, I get an e-mail from a friend, Gail Katagiri: "The best part of watching you anchor this year's parade was after the broadcast had ended, and you and Julie disappeared from the screen. But I think your mike was still on, because I heard someone's voice (it sounded like you) exclaim, 'Oh, man!'"
Lucky me. It could well have been another word. On this one, we had audio problems that cut our director out of our headsets, so we got some directions by hand signals from our production assistants. And we went 30 minutes over. Oh, man – to say the least.
2007: Julie is on the conservative side, so it's fun hearing her, at the first run-through of the script, in a conference room at KTVU, saying "loin dancers" instead of "lion dancers."
2008: The year of the big storm. At least that's what the meteorologists were predicting. San Francisco would be drenched on the parade weekend. Expect traffic accidents and blackouts, they said. The winds and rain could damage floats and knock stilt-walkers down to earth.
Various scheduled participants, especially those from out of town, dropped out; others covered their costumes and gear under clear plastic. Across Geary, the bleacher seats were largely vacant. A lot of people bought tickets and never showed up.
Well, neither did the storm. It was just on-and-off rain. Some marchers bravely doffed their plastic wear, and Miss Chinatown USA and her court floated up the street, beautiful, beaming—and dry.
On Monday, KTVU execs were also beaming. Jim Haman said the broadcast had topped the ratings. We had all done a good job. But the weather forecasters had done a spectacular job, scaring people into staying home and watching us on TV.
2016: No matter what the meteorologists say, I'm predicting heavy, heavy rain.